The Fire close out their Leagues Cup group stage with their first-ever match against Club Puebla Monday evening. Three-team groups means that the team knows exactly what it needs to proceed, and frankly, it isn't that much.
The kickoff for the match was moved to 7:00 PM so that the game has a simultaneous start time with the Club América-Columbus – the group winner (either Minnesota or the Fire) plays the loser of that game, and the second place in the group (which could be any of the three teams) plays the winner.
For what it's worth, although the game is being played in Bridgeview, it is technically a home match for Puebla. Regardless, tournament rules say that when a team scores, its home goal song will be played, and keen-eared viewers may have heard the bars of a familiar Depeche Mode song being played in St. Paul after the Fire's victory there. It's the small stuff that makes the tournament fun, apparently. 
Series History:
This is the first meeting between the two teams. 
Recent Form
Club Puebla
Liga MX Record (2023 Apertura): 0W-2D-1L (1 pt, 17th place out of 18)
Liga MX Record (2023 Clausura): 6W-2D-9L (20 pts, 11th place out of 18)
Leagues Cup: 0W-0D-1L
Basically, nothing went according to plan for Puebla in the opening game of their Leagues Cup campaign. They went down by a goal, then up a man yet couldn't capitalize, conceding three more goals in the second half and losing 4-0. They are also winless in their Liga MX campaign through three games, though they've faced two of the giants in the league, Tigres and Club América. Their most recent win in a competitive match came against Club Tijuana back in April, during the 2023 Clausura.
Chicago Fire
MLS Record: 8W-8D-7L (32 pts)
Leagues Cup: 0W-0D-1L
The Fire went down by a goal, then leveled the score off a Xherdan Shaqiri penalty kick – then went down again just three minutes later. Six minutes after that, Arnaud Souquet once again brought the score level before a Kei Kamara header in the 83rd minute would give the Fire their first lead of the match, securing the win for the visiting team.  They've now won six of seven since the June international break and the second half of their league seasons across all competitions. 
The Storyline 
Excuse the repetition but three-team groups can make for some fairly low-drama fixtures. With Minnesota's group stage done, the results mean that they will advance with three points out of a possible six. 
Chicago will advance and take first position in the group if they win (no surprise there), or if the score is level at the end of regulation.  If the teams are level after 90 minutes plus stoppage time, the teams will go to PKs, with the winner getting two points and the loser a single point – despite the fact that the Fire will then know that they have won the group, and Puebla will know that their tournament is over. Fun, if you like totally meaningless penalty kicks (please have both goalies take one of the pens – preferably the first one – if this happens. It's all just entertainment anyways at that point).
The Fire advance, though in second place, if they lose by fewer than three goals. Winning the group guarantees that the next game will be a home match, even against an MLS opponent.
Based on the evisceration that St. Louis faced at the feet of Club América, it is likely that América will win against Columbus and top the group, meaning if the Fire want to avoid facing the biggest club on the continent in the next round, they should look to get at least a point.  Then again, a match against América would be a boon, at least, for attendance, although it is likely it would be staged at Bridgeview rather than at Soldier Field.
Partly because of the possibility of gaming to pick an opponent, the Fire's kick-off against Puebla is simultaneous with Columbus's against América. Realistically, as long as there's a possibility to win the group and guarantee a match at home, the Fire should go for it. Get a point or more, likely face Columbus at home in the next round, and face América at home later on. 
This should be easy, but the Fire are continually a team that will get an eagle on one hole and struggle with a six-inch putt on the next. Realistically, any result that wouldn't see the Fire through to the next round against an opponent that has struggled not just with results but also basic questions of identity on the pitch should be considered a catastrophe.
For Puebla's part, they are still struggling with the aforementioned questions of identity and trying to find their footing under head coach Eduardo Arce, whose squad was obliterated by Minnesota despite playing the vast majority of the match up a man. The loss became the subject of conversation across sports pages in Mexico, and he is very much on the hot seat. Anything other than a result that sees his squad through may be enough to cause him to have to update his CV.
Tactics and Projected Starting Lineups
Club Puebla
Availability Report:
(note: based on training reports and published information, not an official report)
Injured: Facundo Waller
As the pandemic raged Puebla found themselves a talented, young manager in the form of Argentine Nicolás Larcamón late in 2020, who was able to propel the team to third place in the 2021 Clausura, ahead of league heavyweights like Pumas, León, and Chivas. 
Unfortunately, Larcamón was poached by one of those clubs, and is now the coach of Club León, and his replacement, Eduardo Arce, has not been nearly as successful as his predecessor and the team is still struggling to find its form eight months into his tenure. In the 2023 Clausura, defense was a major issue – clearly an ongoing issue given they surrendered three goals against Minnesota 
Arce faces a unique challenge – he likely needs to bolster his defense while recognizing that simply winning isn't enough – to advance, he needs to best his opponent by three or more goals. 
He rolled out three in the back against Minnesota and, just like what happened the last time they tried that, they lost. This time, though, by a score of 4-0 so it's likely that Arce will revert to having four players in the back line, despite the need for offense.
The team is also dedicated to playing two strikers. Count the goalie and that adds up to seven of the starting XI, and frankly the remaining part of the XI becomes murkier. 
In a way, Puebla is a wounded animal – there is a way for them to get out of the group but it won't be easy – and wounded animals are the least predictable. One solution, and one that Arce has tried before, is to play out of a 4-1-3-2. 
This allows his preferred strikers, #19 Ángel Robles and #15 Guillermo Martínez to start. #10 Federico Mancuello lives up to his number and will be behind them; both #18 Luis Arcadio García and #20 Kevin Velasco could function as wingers. 
Pablo González, playing with #6 on his back and as a #6, can function both as a kind of #6 and #8 in that role.
The formation would allow him to play his preferred back four behind starting GK #30 Jesús Rodríguez, including recent addition #26 Brayan Angulo, quite possibly the most talented member of the squad, #21 Gastón Silva, #5 Diego de Buen, and #2 Gustavo. 
Then again, the squad has to win by three goals or more and that isn't easy.
Chicago Fire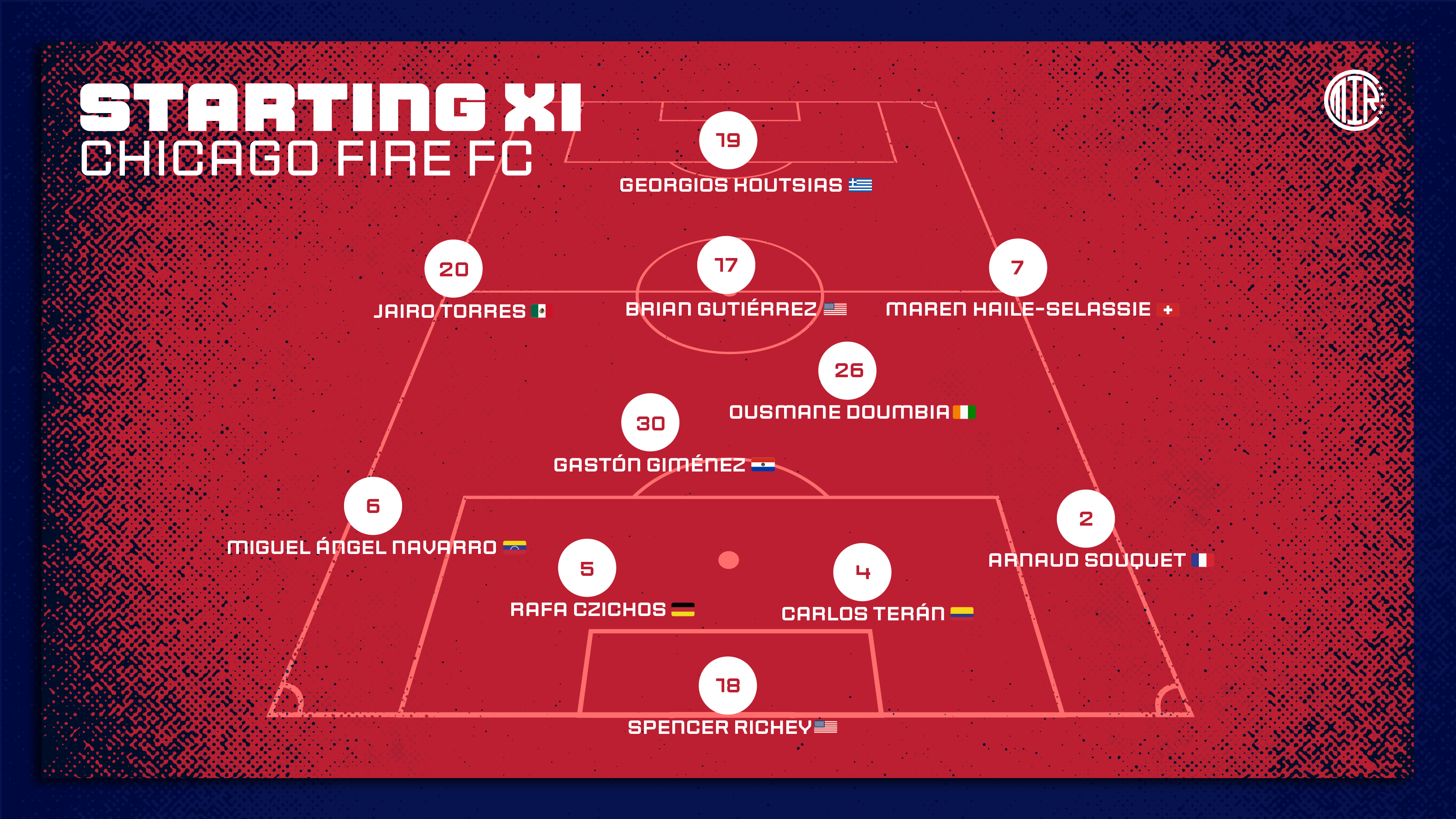 Availability Report:
(note: based on training reports and published information, not an official report)
Out: Chris Mueller
Questionable: Victor Bezerra, Federico Navarro, Wyatt Omsberg
After an 11-day break, Frank Klopas rolled out a lineup that didn't include either of his preferred strikers, Xherdan Shaqiri, Chris Brady, or Ousmane Doumbia, the recent DP signing.
Part of this is due to the tournament schedule – with three to five days between matches, a team planning on any kind of a run will have to rotate players to keep fresh legs available – but part of it is due to the tournament format – with all games tied after regulation going to PKs, coaches want to ensure that they've got the right players on the field should the game be tied after 90 minutes.
That's not a factor here – if the Fire make it to PKs, they've already won the group – but it's fair to expect a certain amount of squad rotation with a meeting against Club América or the Columbus Crew likely awaiting the team. 
Starting Spencer Richey was clearly a vote of confidence for the man who has largely been the team's backup GK during the league season, and he rewarded Fire Head Coach Frank Klopas with a strong performance, including three saves. Richey has clearly earned a second start in the competition, and should proudly wear the official regalia of Tournament Goalie for the team.
Ahead of him, I wouldn't expect any changes in the back line, with Arnaud Souquet scoring a goal and Miguel Ángel Navarro netting an assist.
In the D-Mid, Federico Navarro is working his way back to game fitness but his first minutes back are likely off the bench as he works himself back to full strength. That likely means that Fabian Herbers will come out – he's already on a yellow, and three yellows before the Quarterfinal nets a suspension – but more importantly, his ability to slot in either in the double pivot or as a winger gives the team versatility off the bench if Herbers doesn't start. 
Mauricio Pineda, who earned a handful of minutes in Minnesota, is one option but given the relatively low stakes of the game (again, just lose by less than three), it seems like an ideal time to see what Doumbia can do as a starter.  He came on for Herbers in the 66' and looked relatively sharp.  As with Herbers, the argument for keeping Pineda on the bench isn't so much his play – he looked good in the minutes he was given – but rather the his ability to play multiple positions for the team, including at center back where the team is still somewhat shorthanded with Wyatt Omsberg working himself back to fitness. 
Brian Gutiérrez started in the #10 role – the first time we've seen him playing there officially in a while – and played a strong game, and it wouldn't surprise me to see him return to that spot, with a plan for Shaqiri to spell him off the bench (possibly, as with the last game, with Gutiérrez moving to the left wing instead of returning directly to the bench).  Although Maren Haile-Selassie was the only attacking player who went 90, I wouldn't be surprised to see him start, possibly with a plan for Herbers to sub him off later in the match. 
That means Jairo Torres would likely return to starting at the left wing.  His performance was unremarkable, but frankly, that is a step up, and if you squint just a bit you can start to see how he could be a contributor as he, hopefully, finally shakes the injury that has kept him sidelined for so long.  
At striker, Klopas rewarded Kacper Przybyłko's game-winning goal against Toronto with a start, but frankly, he didn't contribute much and I think it's likely we see Georgios Koutsias get the nod in his stead, keeping Kei Kamara fresh for a knockout game which the Fire should be confident of making.
Fire Keys to Victory
Shoot!:

The Fire came from behind twice in St. Paul. They also had 15 shots, the second most of the season after the 17 they attempted vs. Inter Miami back in March. The Fire scored three goals against Minnesota, and they also netted three against Miami. This marks just the second time that the Fire had two games in a row with 10 or more shots under Frank Klopas – the other two games? Against Sporting KC and the Portland Timbers, both of which were also wins. See what happens when the team shoots? They get balls in the back of the net. Let's keep it up.

It's even more of a game:

The last game, in a sense, didn't matter: If the Fire lost, they just had to best Puebla to advance. This game, they just need to lose by less than three goals to advance. It's a competitive match and the FIre should be in it to win it, but also shouldn't feel the weight of pressure.  This is the ideal situation for Klopas to tell his squad to go out there, play your game with confidence, and enjoy yourself, expecting that the result will follow.

Back line coordination:

Dual striker setups are a rarity in MLS, but it's basically the only way that Club Puebla play. That makes it harder for Puebla to generate intricate passing sequences, but it can also pose an issue for defenses, increasing the chances that one of the two can break through the Fire's defensive line and get a look at goal. Two-striker setups – often with more lethal fangs than Puebla posses – are relatively more common in Liga MX so this is a good chance for the Fire to practice coordination in the back line against a dual-striker setup. 
Panel Predictions
Alex Calabrese
Puebla is a team in crisis, and their league form would probably benefit from a few weeks off. They'll lose badly, Arce will be fired, and the Fire will move on comfortably.
Prediction: Fire 3-0 Puebla
John Carollo
"Just remember ALL CAPS when you spell the man name."
I just want to formally welcome MF DOUM. I have no thoughts in my head.
Prediction: Fire 2-0 Puebla
Christian Hirschboeck
Now good team versus not good team.
Prediction: Fire 2-0 Puebla
Tim Hotze
Just lose by less than three. This should be easy. Why does it feel like a trap? Still, Club Puebla look thoroughly disorganized a lot of the time and the Fire have this. Right? 
Prediction: Fire 2-1 Puebla
Match Information and How to Watch
Date and Time: Monday, July 31, 2023, 7:00 PM
Location: SeatGeek Stadium, Bridgeview, Ill.
Forecast: 77'F expected at kick off, with 50% humidity, winds E at 8 mph, 19% cloud cover, and a 0% chance of precipitation
TV: Apple TV – MLS Season Pass, FS1
Radio: 890 WLS-AM (English), TUDN 1200 AM (Spanish)