Major League Soccer roster rules weren't as complex back in 2000, but there was still a salary cap and limits to international players. Some bigger players were even allocated to teams like Piotr Nowak originally was when he signed with the league. But in 2000, the Fire were allocated a player who was definitely being paid over the maximum salary for an MLS player. He had won a Ballon D'Or with Barcelona, was a stand-out in the World Cup, and was probably being paid enough to the point where maybe you could even call him the first Designated Player in MLS history. His name was Hristo Stoichkov, and he absolutely loved playing for the Chicago Fire.
23 years later, MLS has signed yet another transformative player. However, this time, it is so much bigger than Stoichkov. It's bigger than David Beckham, who in 2007 single-handedly revitalized MLS and created the Designated Player rule so every team could get their own big-money player. It's Beckham's team, the one that he was given in his 2007 contract, that has signed Lionel Messi. While I have some old-school tastes in who I call the GOAT (D10S, Cruyff, even George Best), Messi is a living legend that stands above anyone playing the sport right now. Plain and simple. And as he lands in Miami, he shifts the entire center of gravity in the world of soccer towards MLS and America.
And honestly? That kinda sucks. And I wanna talk about it.
"An Armored Space Station With Enough Power To Destroy An Entire Planet"
The first problem is something that honestly sounds like a great thing on paper. More fans, more eyes on the league. This is what MLS has wanted for so long. But the thing is… They're not MLS fans. They're not fans of an MLS team. They're Messi fans. They're here to watch Messi. MLS can do all the work possible to try to convince these new fans that MLS is worth watching, but most do not care. It is the retirement league, Messi is only here to get his last couple of seasons in while stunting on some "plumbers". There is an argument that has been made that fans of non-Miami teams should welcome the new fans into their sections, but how many people became D.C. United fans when Beckham signed for the Galaxy? How many people became Fire fans because Thierry Henry signed for the Red Bulls?
I have seen the problem in American women's soccer with the Chicago Red Stars where there's this assumption that bringing in a bigger player to the other team will bring more fans, but that's not really true. Back in the WPS days, the Red Stars had Lindsay Tarpley, a young Megan Rapinoe, and Carli Lloyd (who could not be bothered to do anything back then). There was a fan base; but the moment Marta joined LA Sol and came to Chicago, I saw Red Stars fans walk in wearing their Marta Sol jerseys and then come back the next week acting like nothing happened. And the excess crowd always leaves. Whenever Alex Morgan or the now much more famous Pinoe show up at The Geem, there's always a crowd there to see them. But that crowd goes back down to normal dismal levels the moment they're gone. It's not sustainable for a club or a league to rely on the power of one or two stars floating around.
But, again, that's what MLS wants. MLS wants a big star for everyone to advertise. Just look at the Fire's recent social media posts "welcoming" Messi. Look at the fanfare he's received from league media for the past three years, even before he was confirmed. Then look at the ticket prices.
Fans have already been slowly priced out, despite the lack of return from a lot of teams in the league. Maybe these trashier teams want to be "competitive" with their pricing. Maybe the league simply has so many stars now that they feel they have to raise prices. But some teams out here aren't really putting on performances deserving of the prices that are being asked for. I'll stop here cause this is a completely different article, but even the mere mention of Messi shot up the value of so many Fire tickets on October 4th. And that was the same for every other team in MLS.
The final and biggest problem I have with Messi coming to MLS is that Inter Miami is going to dominate MLS for about five years. Not because of Messi himself. On his own, I don't think Messi could get this Miami team through the playoffs. They might even miss the playoffs, especially in this competitive Eastern Conference. But he's not coming in alone. There have been constant, and I mean CONSTANT, reports of random major names talking about wanting to come to MLS to play with Messi in Miami. Sergio Busquets has already signed for Inter, but so many high-profile players have already thrown their hat in the ring. Guys like Sergio Ramos, Jordi Alba, Luis Suárez, Eden Hazard, and even Jesse Lingard have all expressed an interest in joining. And while many are old, these are some world-class athletes who are still playing at a high level and can still attract even more interest.
(Jiggly's Note: While I was writing this earlier in the week, I heard some quiet rumors about former Vissel Kobe player Andres Iniesta maybe going to Miami, but I thought he'd just retire. Nope! As of around noon on Thursday, there's now much louder reports of him signing a deal to send him to Miami.)
(Another Jiggly's Note: Jordi Alba is now confirmed.)
It's stupid. Messi might not be able to do it on a frigid night in Bridgeview, but Sergio Ramos probably could. He's being built a Death Star on arrival. And even if they break the rules, MLS will just invent new rules to help him. They've done it before for Beckham and Zlatan. And it's just not fair.
American Exceptionalism
I find it absolutely hilarious how much of an American institution the concept of "parity" is. America, the big old capitalist monster that it is, is a champion of probably one of the most socialist practices in all of sports. It's the idea that on any given Sunday, any team can walk into any stadium and win against any team. That is the platonic ideal of sports. And while he might roll in his grave for me saying this, George Halas is a pretty major socialist icon in sports for introducing the Draft. The best teams can't keep gaining capital, they have to allow the teams that are worse off the chance to rebuild and achieve success later. American sports are all about building a good team, winning maybe a single championship, and then instantly being slapped back down into the shadow realm.
Sure, some teams win more than others, and some teams don't win at all, but on the whole, things are usually pretty even. It's what makes things fun. This is why a "dynasty" is so rare and so interesting. Because they're built in a way that goes against nature. You're not supposed to be dominant for a period of time greater than maybe three seasons if you can even win a championship in that time. American sports are built around underdogs, allowing bad teams to be good again. In just the past decade or so, we watched teams like the Kansas City Chiefs, Golden State Warriors, and Tampa Bay Lightning go from the mud-pits to multiple championships. That's amazing. This is what sports is about.
To prove how fun American parity is, here's a sample I've done of the top 6 European leagues against the top 6 American sports leagues in the past 10 seasons:
First things first: Eagle-eyed viewers may notice some very wrong with the March Madness section. Yes, there was no 2020 tournament and yes, Louisville had to vacate their title due to a recruitment scandal. But that is still the last 10 teams that have won the final in March Madness.
But looking at the difference in variety between Europe and America is like night and day. On the left, you have massive blocks of blue, red, and black. On the right, even in the sports where we culturally expect repetition (Bama in CFB, Warriors in the NBA), they're still nowhere near as dominant as Benfica or Barcelona, who are the lowest of the top European teams. In fact, the NBA joins many of the other American sports as a league that has given the most teams the opportunity to win at least one. Maybe the reason why the NBA and CFB feel a bit repetitive is because of the amount of times the Warriors and Bama have appeared in their respective championships (Warriors made it six times, Bama made it seven) or that they had the same exact final matchup multiple years in a row (Warriors v Cavs four years in a row, Bama v Clemson three out of four years). The point is that Europe's built on static dynasties that reign over the rest of the league, while American sports are built on the foundation that if your team sucks now, they can turn it around within maybe four years. Hell, in the case of those 2017 Philadelphia Eagles: They went from the bottom of their division, made a few key signings in the offseason, and won the Super Bowl the next season.
It's that idea of volatility that makes American sports fun. It's no fun to have a team that dominates everyone. I've mentioned them earlier, but does anyone other than their fans actually like Bama or the Warriors? NFL fans, tell the truth: How happy were you when you saw the Patriots finally miss the playoffs last season after they dominated the league for the past 20+ years? We are hardwired as American sports fans to support underdogs and oppose dynasties.
The reason why I didn't put MLS up on that chart is because the league is at a crossroads. I don't think I need to list them in order for you to know that their chart would look much like any other American chart. And if you wanna say it's the fault of the tournament system that creates the diversity, you can check for yourself that the Supporters' Shield and NHL's Presidents' Trophy have the same level of variety as the championships. But allowing a super-team to be built goes against that American sports ideal of equality and even equity among teams in a league. 
There are a few teams that could counter Miami if Messi is allowed to build his Death Star. LAFC has shown an ability to spend well and are already an established dominant force in the league. There's the Philadelphia Union, who have built themselves into an amazing close-knit team with a brilliant academy. Then there's the other big spenders like NYCFC and Toronto FC, who have both shown in the past that they are also willing to spend big in order to make things work out for them. But they're not really gonna have the potential of having world-class players willing to take a pay cut in order to play alongside Messi. More likely than not, they'll show up and be annoying, but ultimately fall behind (like Borussia Dortmund or the Cleveland Cavaliers).
Chicago Sh*t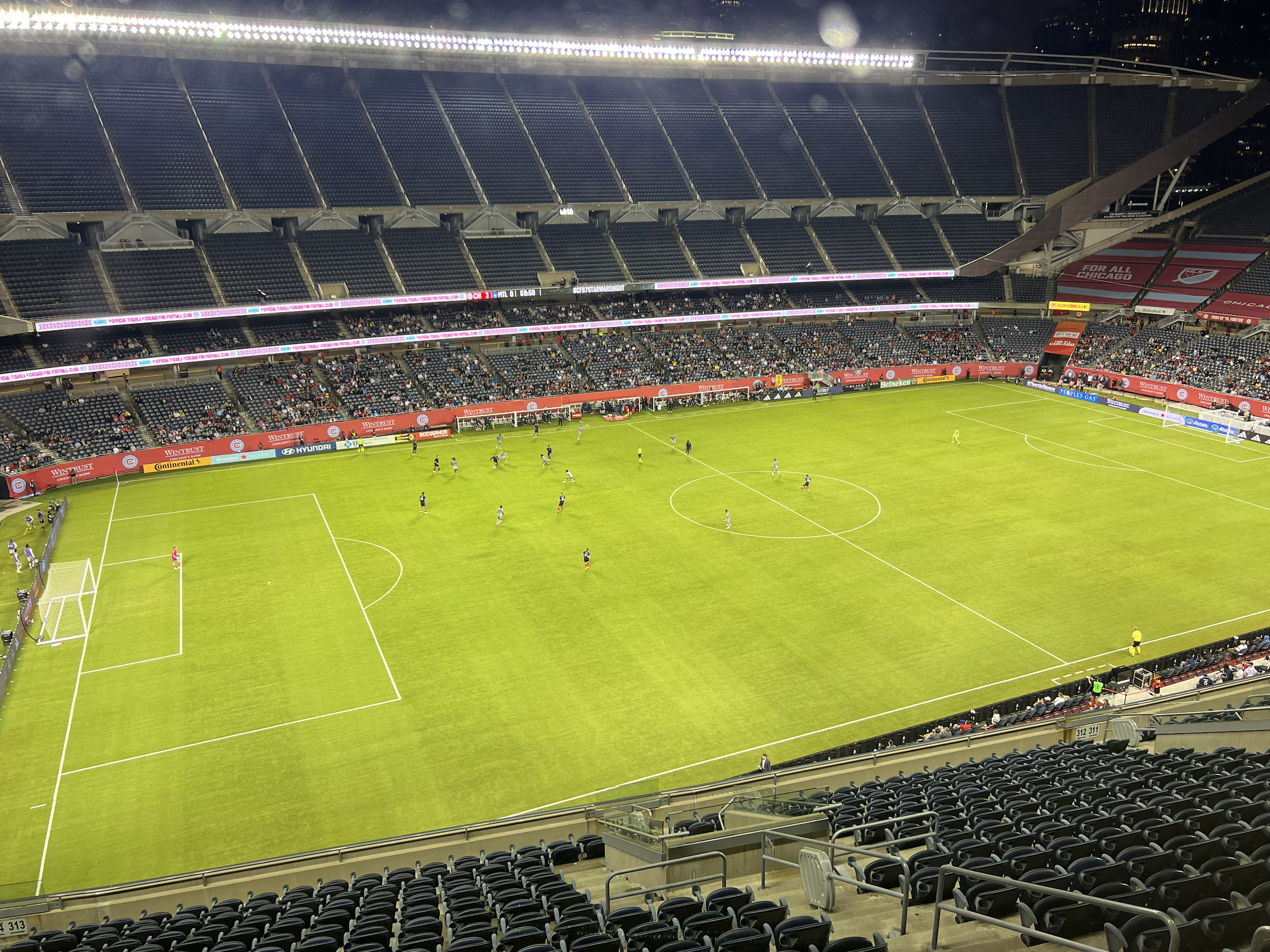 I don't listen to much Modest Mouse anymore because their lead singer is a piece of shit and their most recent album was so bad that I think everyone finally decided to actually recognize that first thing. But when I was in junior high, I'd listen to them a lot and there's a song title from one of their earliest records that I think about a lot: "Talking Shit About a Pretty Sunset". Just the concept of seeing something that is objectively considered to be wonderful and completely refusing to embrace it. Messi to MLS may be bad for the reasons I've listed, but there's so many good things about it. I get it. Good for MLS. The thing is that I don't care about MLS. I care about the Chicago Fire. 
So what if the Fire were one of those chosen heroes to stop Miami from becoming a Death Star?
Back in "The Before Times", in "The Long Long Ago", the Chicago Fire were THE model franchise in MLS. They were consistently signing major players, consistently developing amazing young talents, and consistently winning silverware. The problem is that all that silverware has been gathering dust for years. I think it's about time for them to bounce back. We've been saying that for years now, but this has to be the time. Because that history is so important, because the Fire have tradition that they can fall back on when anyone questions them. There are legends who are more than willing to welcome new legends into the family.
Also, we keep forgetting this somehow, but Chicago is such a perfect place for a well-run soccer team to flourish. There is some DEEP soccer history in this town going back to the early 20th century. There are fans who always show up for soccer when they have a reason to and, as pointed out by some of my colleagues who went to multiple Nations League and Gold Cup games throughout the country over the past month or so, Chicago can actually provide an amazing in-stadium experience at Soldier Field. While capacity is limited for Fire games cause it'd just be embarrassing to say you're getting 12k in a 60k stadium, that's still a 60k stadium. You build a team that gets people out there, you have the fifth biggest stadium in the league. With all the issues it has, Soldier Field is a historic venue that many Chicagoans would flock to given the right reason (or if Eberflus can figure out how to utilize Justin Fields). When the stadium is packed on October 4th, that should be a punch to the face of everyone in charge of decision-making for the club.
Why? Because fuck Miami. Aside from Denzel Curry and a couple other people I know who are from Miami, I do not care for the city and, frankly, the entire state. They lost their team already and some of their fans don't even know who Carlos Valderrama is. They do not deserve anything. It's time for the Fire to be the hero the City of Chicago needs.
Every other team in Chicago is set to suck. The Bears are in a division that will suck as a whole, but they're not really a good team yet. The Cubs and Sox both seem confused as to why their "soft rebuilds" aren't actually doing anything yet. The Hawks are just on the first step of their rebuild (Bedard will be great, but he won't win alone). The Sky and Red Stars have been gutted in recent years. And the Bulls… They re-signed Coby White, so I have no clue what they're doing anymore. As my dad likes to put it: "More dog teams than the Yukon." There is space right now for a winner in Chicago and for a team to do that in a league with Messi in it would be huge. This is THE opportunity for the Fire. This is the gauntlet being thrown.
In fact, I'll throw it myself right now.
The Gauntlet, Part One (Be Better)
So let's start with what the Fire shouldn't be doing at this moment. I just need to get this first thing out of the way:
DO NOT SIGN CRISTIANO RONALDO!
He has recently stated that the quality of MLS is below that of the Saudi League, but that's not why. Ronaldo's assault case wasn't dropped because he was innocent, it was dropped because the woman's attorneys were stupid about their evidence. They had all the evidence they needed to get Ronaldo convicted, but they got hit with the technicality that what they were using was deemed "confidential" and therefore it was tossed out. That is what happened. There is a massive difference between "Not Guilty" and a case being dismissed by the judge due to attorney misconduct. He was guilty, but the legal system did what it does best, getting too complicated for its own good. I don't want him here. No one should. Shut up.
Next, the Fire shouldn't be building from their youth academy. Obviously, a strong academy can lead to a strong team and we've seen quite a few homegrowns make an impression. The problem is that I don't think enough people fully understand how many "golden generations" the Fire has squandered over the past decade. Players being wasted on the bench, coaches that refused to develop anyone, some of these guys didn't even make it to being homegrowns because they just didn't want to play for the Fire. It's an article for another time, but even with success, these guys just leave. I mean, look at everyone's golden boy Gaga Slonina. You're planting seeds to a tree that you will never know the shade of. Except instead of your community getting its shade, someone's dug it up from the ground and shipped it over to the other side of the world to go into some forest where it's gonna struggle to grow any further. Stop saying we need to wait for players to develop, let's get this now.
I also think that the Fire should avoid being frugal here. Joe Mansueto has so much money, he doesn't need to be shopping at the bargain bin of Europe. I think Georg Heitz wants to play Moneyball with this team, but the fact of the matter is that the only teams that really succeed and win championships with that strategy are the ones that spend a lot of money for a lot of production. The 2004 Red Sox and 2016 Cubs were not cheap, they were just built well. The goal of owning a sports team isn't to make money, it's to spend money and win championships. And even if money is a motivating factor, selling out Soldier Field with a good team is gonna make a lot more money than hoping for the Messi game to boost sales for a week.
The Gauntlet, Part Two (Do More)
Now that I've established what not to do, let's talk about what the Chicago Fire should do with the biggest thing out of the way here, as well:
GO BIG OR EXPECT FANS WITH PITCHFORKS
At this point, fans should be bringing in signs to games with "DP9" written on them. Despite recent heroics from Kacper Przybyłko, goals from Kei Kamara, and impressive outings from Georgios Koutsias, the Fire do not have a true striker. That is a massive problem if you wanna win games. xG is a very stupid stat, but what it can tell you is the danger represented by a team. And the Fire are 6th in the highest xGA and 6th in the lowest xG. That is a pressure cooker that needs to be solved. The Fire need to feel more dangerous and they need to score more goals to counteract how much heat they receive.
But it shouldn't just be any signing. This is the Designated Player slot. This is your marquee name, the guy who is on all of your posters. It needs to be someone everyone recognizes. It's the guy who gets people there. It's The Guy. A promise was made in the pre-season that Ezra Hendrickson and Georg Heitz would sign "The Guy"; but with one of those lads fired and the other still asleep at the wheel, they have broken that promise. Fire fans shouldn't just forgive that. Ousmane Doumbia is really only okay because he's temporary, because he's a white flag concession. But the fact that they've flown the white flag at all should be taken as a massive disrespect to fans.
Another big point the Fire should take notice on is that South America is no longer a treasure trove for MLS to dig through. Argentine and Colombian clubs have always been smart about selling players to MLS clubs at a markup, but at this point MLS seems to have awoken something in them. As I've heard, there's even a joke in Argentina about how players will literally just point to another player with a YDP contract and say "I will only play for that." They have begun to oversell their value. So, if Heitz and Mansueto want to still find some sort of bargain, I think that they can look elsewhere. Not Europe, but Asia.
Yes, I'm being a weeb again, but there is so much talent in Japan, Korea, and even some players in Southeast Asia who are waiting to be discovered. I'd say that the K-League and J-League are just a couple of steps behind MLS in terms of quality (not that I care about quality ever), which means that any player signed from those leagues could easily translate that into MLS. We've seen Celtic see massive success from their Japanese signings and Germany has been doing this for years. But much of the rest of major European clubs and almost all of MLS seem to avoid the region. Why can't the Fire lead the way on creating an actual global scouting network? It's not like the players will be cheap, but the prices will be a whole lot more fair than the markups that have become a meme in Latin America.
And finally, plain and simple: Get on all of this now. You are only going to get these kind of game-changers in the summer window. That's just how it is. If you want a big player from Europe, they only make those moves in the summer. Contracts are up, teams are trying to fix things up before they go into the season. Honestly, the moment has already passed, but there's still ways to just do something and get the ball rolling on signings for the winter. And while I did suggest scouting in the K-League and J-league, who do have a similar calendar to MLS, I'm pretty sure even those leagues make most of their inter-league deals in the summer window. It is the time for change in the soccer world and to essentially skip it is to, again, wave the white flag on your entire tenure as a soccer exec.
So, I've mentioned all of the do's and don'ts for the Chicago Fire. Most of these are very obvious. What is never obvious, is how to do all of this. Except it is pretty obvious.
It's Pretty Obvious What Needs To Happen
First step is to announce that Georg Heitz will no longer hold the position of Chicago Fire General Manager.
This isn't exactly firing him, just moving him. He may have sucked as a GM (based on the way he seems to have built the team by literally slapping players together and hoping that inexperienced coaches could do something with them), but he's not completely bad. He's got a great scouting network and has really helped FC Lugano. So I'm willing to say that he's not a bad soccer exec, but he is straight-up not built to be in MLS. He's barely learned what it means to trade a draft pick, I don't think he still fully understands what D-TAM is (which is fair, MLS is a very silly place).
The next step isn't as easy, but is pretty simple to lay out: Hire a GM with proven MLS experience and a head coach with a winning record. This was going to be Jim Curtin, but that's clearly gone out the window. Maybe Carlos Bocanegra, but there were issues there. Jesse Marsch is still on the table. But at the end of the day, the Fire need to be led by someone who genuinely knows what they're doing to the point where anyone who is looking at it knows that they do. No need for a consulting firm to come in and suggest that you hire the same dude you fired about 6 months ago. We shouldn't have to do a deep dive into their history and say "Well, if you squint a bit…" No! We have the bag to give to someone, we have the freedom for them to work. Let an actual chef into the kitchen so they can cook.
Speaking of not having to squint at a signing, you need to sign The Guy. Or, as I will now refer to them as: The Big Boi. I swear, to whatever god you want me to swear to (Pelor, Annabeth Chase, Haruhi Suzumiya), the Fire NEED to get their next one right. They need to get it perfect. Because Inter Miami just signed a dude who is bigger than all three of those people. The Fire cannot get away with "signing a decent dude" anymore. As I always remind people of the legendary words of beloved Chicago Mayor Harold Washington: "Business as usual will not be accepted by any part of this city." You need to be bold, you need to actually stop making little plans. When the Fire sign this Big Boi, they need to be big enough where the girl at the pizza place I go to every week looks at my Fire jersey and says "Hey, I saw they signed that one dude." Because who in the absolute fuck are (puts on glasses and reads notes) Sherjil MacDonald, Federico Puppo, Juan Luis Anangonó, Gilberto, Kennedy Igboananike, and Robert Berić? Apologies to Anangonó cause he got handed a raw deal, but none of these guys really deserved to be a DP. Some did well only when it no longer mattered, some just didn't do anything, and others were actual detriments to the team.
Is Robert Lewandowski The Guy? Is he our fated Big Boi? I don't know. Maybe. I hope so. I know so many people who would love to have him here and his arrival would make so much sense for him as well. Either way, the Fire need to sign someone at that level or else Mansueto might as well just hand his ownership stake back over to Hauptman because he's clearly not trying.
My final step in this plan is that depth should be built through downward pressure. Do not get rid of starters and then get other starters. The starters the Fire have are solid depth pieces. We lack depth because we expect our depth to be our starters. I still firmly believe that Fabian Herbers could make the 18 on a team like LAFC or Philly. Not because he's good, but because he fills a role really well and teams will always need a guy like him to come on in the 70th minute or so to close out a game. He's not a starter. Neither is Kei Kamara, Miguel Ángel Navarro, or Chris Mueller. I think Kei and Mueller are solid players (still not sold on Miggy); but if you want a championship-winning team, these guys are role players.
Pretty Girls Give Me Depression
I don't know how much of it is just our personalities brushing off on each other from having worked together for over three years and stood next to each other at games for at least a couple years more than that, but you can tell that fellow Fire journalist Adnan Bašić and I are friends. While I may be a weeb and he's a wrestling fan, we still share a love for Spongebob and even like a lot of the same music. And if you follow Adnan on Twitter, you might've noticed his new running joke of tweeting mid-game: "I'm so lonely." If you listen to our podcast Sad Bois FC long enough, you'll start to notice all of the peculiarities of our humor and a main source of it is our never-ending well of self-deprecating jokes about our non-existent love lives.
I'm just mentioning that to sort of rationalize how Messi signing in MLS made me feel. Because while I love watching my trash anime, there are some times when I see a pretty girl, anywhere, and I just feel terrible. That part of me that makes those jokes about how ugly I am and how little game I have is a part of me that truly believes those words. It's a part of me that says that I'll never have a chance. And I know it sounds like some stupid self-indulgent stretch, but that's how I feel seeing Messi sign with Inter Miami. The moment I saw it happen, I thought "Why bother? Why do I still care about the Fire if they're just not gonna do anything while the rest of the league has already blasted forward into the future?". In that moment, I am reminded that what is seemingly attainable for those around me is still so horrifyingly, gut-wrenchingly out of reach. And all I can feel is hopeless and helpless.
It's all just insecurity. The same insecurity that brings me down when I open up Hinge is the same insecurity I feel when I open up FBRef.com and check the Fire's stats. But the difference is that while I can work on myself, get on a real workout plan, and slowly gain back that confidence in myself to fight that insecurity, there is nothing I can do about the Fire. The Fire will be the Fire, they will continue to do Fire things. I have spent half my fucking life waiting for this team to get its shit together and while I may not be one to talk, I'm starting to think that I might end up getting it right before they do. It's already taken them this long. The last time the Chicago Fire had a team that felt like they could genuinely take on the rest of the league, my age was in the single digits. We all knew 2017 was a glass cannon, we were just along for the ride.
My insecurity around this team is what has always driven me to write about the Fire, it is what has always fueled my journalism. It's all just been fear and a desire to maybe do something about it. Half my life devoted to researching and writing about ways the Fire can fix things, action plans for the Fire that I shoot out into the ether hoping that something is done about it. And all I've seen in response is the continuous revolving door of fast-talking gurus, businessmen with 5-year plans, placing band-aid after band-aid on an infected wound that just won't heal. Poor decision after poor decision, after half-measures, after unlucky breaks, after sitting around waiting for something to happen. And to see expansion teams, clubs with no history, hated rivals just rise up with such little effort. To see the league's laughing stock suddenly recognized as a potential world super power. And then to see another one sign Lionel Fucking Messi. It brings you down. It makes you sick. It makes you want to do something. But there's only one man who could really do something.
Obviously, the existence of billionaires is implicitly harmful to society, there are no ethical billionaires, eat the rich. But by all accounts, Joe Mansueto doesn't seem like an actively bad dude for a billionaire. He cares about his community and has done what he can to donate to a lot of solid efforts in the city (and a couple less good ones, but see the start of the paragraph). I'm sure that he wants the Fire to be a great team someday, but I'm not sure if he understands the weight of what fixing them means. I don't think he reacted to Messi's signing with the same anger and annoyance that some of us did. And I'm not sure if he's going to approach this challenge with the same ferocity that any of us would. He's an investment banker that made his money off of studying and selling investment analytics surrounding mutual funds. He's a guy who is fine with working for the future and isn't going to be swayed by emotion. But there are moments where emotions, where passion is the most important thing.
So I'll finally ask: Who does Joe Mansueto think he is? And who does he want to be?
Because we are starting to reach a point where people are starting to look around and say "This just feels like the Hauptman era, but with a lighter shade of blue." I don't want to ask these questions, but they're starting to come up and the more time it takes to see things happening, the worse it looks. MLS is changing rapidly and the Chicago market is lagging behind by at least five years. If the Messi signing doesn't light a fire under Joe's ass, then I don't know what to call him other than a coward. Cause this is the moment to make a statement.
Hristo Stoichkov scored 117 goals in 255 total appearances for Barcelona. He played under Johan Cruyff, a man who is one of the greatest innovators of the game, and was a part of his legendary "Dream Team". He dragged Bulgaria kicking and screaming into the light of the international stage at the 1994 World Cup against Argentina, Germany, and a genuinely scary Mexico side. When Cruyff left Barcelona, so did Stoichkov, who would bounce around from his home team CSKA Sofia, to Saudi team Al-Nassr, and even played a couple seasons in Japan with Kashiwa Reysol.
Finally, he came to Chicago. His knees were shot and the Fire already had more great attackers than they knew what to do with in Ante Razov, Piotr Nowak, Josh Wolff, Eric Wynalda, and Dema Kovalenko. He still scored 23 goals in 57 games. After all was said and done, after he was traded to DC United and subsequently retired after breaking a college kid's leg, Stoichkov had spent so little time in this city. But it is always Chicago that he brings up as having been the one team he loved playing for the most. That the fans, the culture, the passion, the honor, and the tradition were enough to make him fall in love with a team that was barely a few years old.
When the old guys talk about those good old days, they aren't lying. The Fire were the model franchise and a pillar that may have helped to hold up MLS in their dark years. Now, we need to escape our own dark years. And that starts with finding our next Stoichkov. We have signed major players before. We need to start doing it again.