Normally, last night the general soccer-viewing public in the United States would have been tuned in to watch the Women's National Team start their World Cup campaign against Vietnam, but, almost predictably, Don Garber had alternate plans. 
The League's Cup kicked off – for the first time in its full-fledged form, pitting every MLS club against every Liga MX club, and one of the debut matchups was Inter Miami vs. Cruz Azul in a match that happened to feature the debut of Lionel Messi.
He entered the match in the second half, at a time when Miami were already up by a goal. Cruz Azul scored – we need drama – then almost as if ordained, Messi scored off a free kick in second half stoppage time. Poetry. Scripted television.
Except if the television was scripted, you'd think the writers would have given play-by-play announcer Jake Zivin and color commentator Taylor Twellman better lines. They were fawning, a bit too obviously, throughout the match. Well, with the WGA on strike, I guess that's what you get when you hire scabs. 
In case you wondered which team was the home one in this game, MLS promised "enhanced production for Inter Miami CF's matches during Leagues Cup, including 18 cameras, Steadicam, four super slow-motion cameras, Skycam, a drone, sideline reporters in Spanish and English, a dedicated one-hour pregame show on site with features, interviews and expert analysis, and a postgame show to wrap things up." 
That's not just home games at DRV PNK stadium, the erector-set venue in Ft. Lauderdale that Inter Miami calls home with recent additions in the corners that look sketchy as heck – it's all their games, but not that of teams like Atlanta that regularly draw twice DRV PNK's total capacity. They're bringing extra cameras and the fig leaf of neutrality is off, MLS Season Pass on Apple TV is up and saluting for the #10 in pink and they aren't ashamed to let you know it.
Despite my protestrations that this is supposed to be a fun tournament, I found myself actively rooting for Inter Miami to lose as I heard "Busquets [some other words] Messi" and other variations thereof throughout the second half, regardless of whether they had done anything on the ball. Jordi Alba, not yet in the matchday squad, was mentioned more than once.  Come to think of it, the most uttered name during the first half of the broadcast was probably Messi's, and he was on the bench. (Lest anyone be concerned about his whearabouts, they had a camera turned on him sitting on the bench the entire time, and the producers were not shy about cutting away from an actual soccer match being played to show a 36-year-old man sitting down.)
As with pretty much everything in soccer, Jiggly has opinions on the topic of Messi's arrival, what it means for the league and the Fire.
He was absolutely right about a lot of things. I quibble, a bit, with having to sign what he calls "The Guy" (or "The Big Boi") – yes, I would love to see a statement of ambition from Joe Mansueto that he is still committed to restoring the Fire to the rank of "Model MLS Franchise," which is where the team should be. I just think that there's a limit to what hiring a big name at the end of their careers can do for an MLS club these days. The Fire just need to win. 
If they win with likable players who play like stars, I'm convinced that fans will pack Soldier Field and the atmosphere will rival that in other NFL-come-MLS venues that work, like Mercedes-Benz in Atlanta or Lumen Field in Seattle, even if the player doesn't have global name recognition. 
Most importantly, though, I just think that Jiggly misses the point on what the Messi signing can mean for the league – and the Fire, even if I firmly believe that Fire fans should give Messi the same warm welcome Beckham received in 2007 when he came to town (cascading boos culuminating in a loss that denied the new MLS player's entry to the playoffs).
Jiggly doesn't want there to be a Death Star of a team, one that's utterly undefeatable for the next two-and-a-half years. 
Neither do I, and I'm still not convinced that Miami will be that, but regardless, Messi's arrival gives the league – and pretty much every team – an opportunity. Time to go big, or go home. Here's why and how I think that may happen.
The MLS Budget: An Accountant's Fairytale
When David Beckham entered the league in 2007, the league bent over backwards – literally not just bending the rules, but making new rules – to enable the L.A. Galaxy to sign him. Sure, there was a salary cap, but teams had an "out" – slap the Designated Player tag on a guy and pay him whatever you want, and pay whatever transfer fee you want to get him here.
Then there were two DP slots. Then you could pay to have a third – with the money you spent distributed amongst teams whose owners were not spending as freely. Then the league just let you have the third one anyways. Plus, there's Allocation Money in not just one, but two flavors – so a guy that is making $500,000 might only hit your "salary budget" – the word "cap" is strictly verboten – at $250,000. Then there's U-22 initiative players, added last year. It all adds up to a work of bookkeeping fiction that would make a mobster's accountant blush. 
Homegrown players don't have the same budget hit. Transfer fees count, unless they don't. Only the first 20 players on the roster count, regardless.
In 2023, MLS teams are given a salary budget – what would be called a "cap" if it wasn't purely a fiction – is $5,210,000. With 29 teams in the league, that'd mean that if each team spent to the ceiling of that, there'd be a total of $151,090,000 being spent between player compensation and transfer fees, and yet the league has 203 players making $1 million or more on wages alone (keep in mind, nominally, the cap is about $650,000) are earning over $229 million between them. 
All told, the 807 players listed by the MLS Players Association latest salary release are being promised just under $456 million in 2023 – more than triple the theoretical salary budget, and that's just guaranteed wages, not transfer fees which MLS also counts in their calculations.
Every team spends multiples of the salary budget cap – in May, CF Montréal had the lowest wage bill in the league at $10.5 million. Toronto had the highest, at $25.7 million. 
All told, it's a work of accounting fiction so staggering that it has to be called a fairytale.
A House Built on A Shaky Foundation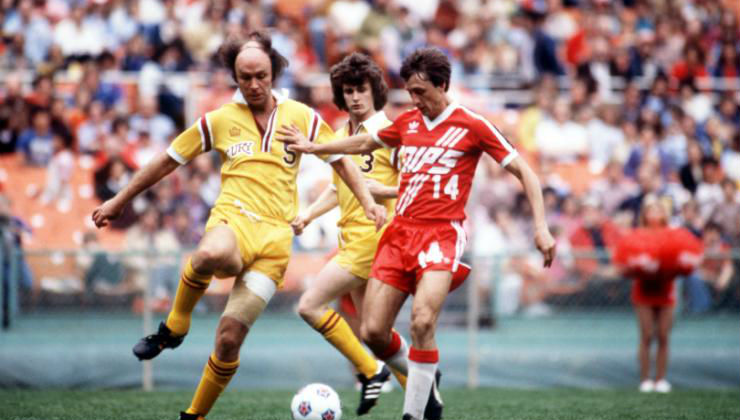 Why does this farce of finance persist? The league was initially wary of the excesses of the old NASL, which signed superstars like George Best, Johan Cruyff and Pelé without ever trying to balance profits and losses. With Messi on that list, pretty much any legitimate contender for GOAT of men's soccer has played on these shores. 
Early on, MLS expansion teams cost a few million dollars, the league wasn't bringing in much TV money (and still isn't, in the grand scheme of things), and, though it's odd to say today, the super-rich weren't nearly as super-rich as they are today, making salary concerns were legitimate. Teams could spend in a way that could cause the league to fall, and the league was at risk of folding several times in the first decade or so of its existence, including right before David Beckham arrived.
His arrival revitalized the league, and he drew in crowds, eyeballs in ways that the league hadn't experienced since its founding. Still, not every owner wanted – or could afford – their own Beckham, even on a smaller scale. The Fire, for their part, did better than most, bringing in Cuauhtémoc Blanco.
The Designated Player rule was a kind of negotiated truce: Yes, you can sign a big name or two, but no, you can't just spend freely. Parity had to be maintained. Sign big names, but not in a way that makes your club that much better. Yes, the Galaxy teams with David Beckham won hardware – though their first trophy, the Supporter's Shield, came in a year when Beckham missed the entire season due to injury and Edson Buddle and Landon Donovan lead the team's offense. 
Beckham was the biggest name, but it was Donovan that was the team's leader, and players like Buddle and Keane lead the team in scoring. 
Have your global superstars, they help bring in tickets, but no, don't let them help your squad too much. Pay a guy millions and millions to come here from Europe, but it'll be a kid a year out of college making $80,000 a year who runs back to defend the counterattack when the guy's shot is blocked. As Jiggly said, we love parity in North America, but MLS has a uniquely bad way of creating it.  Have your stars, but don't mind us while we tie their bootlaces together in the pregame. That isn't parity, that's self-sabotage parading as fairness.
As Paul Tenorio at The Athletic and others have reported, that kind of shaky truce – some owners saying "sure, bring in names that help sell tickets, spend money, but please, don't make the rest of us look bad" has continued. Some owners are significantly more ambitious than others, and over time, more and more salary mechanisms – I'll avoid using the term "levers" – have been added, like extensions on a ramshackle house, one at a time, with an eye to letting teams spend but not in a way that makes them that good.
At the beginning of the year, Shaqiri was the league's best-paid player. Over the course of his three year deal, the Fire have committed to spending something in the ballpark of $32 million on him between salary and transfer fees (and not to harp on this too much, but that's just under $10 million a year in a league where the "salary budget" for the whole team is under $6 million per season).
Some people have talked about Shaqiri underperforming, but the truth is, Montréal's entire roster costs about what Shaqiri does. There is no way any one player can produce as much as two dozen. It's a mechanism built for inefficient spending, by design: Spend lots of cash but but not in a way that really makes you competitive. 
The biggest spending team in the league before Messi's arrival was Toronto, and they're doing their absolute best to push themselves into Wooden Spoon contention.
As Far as This Train Goes 
That's really the context in which Messi's signing matters. Some owners have greater ambitions for their teams and this league than others. 
Inter Miami owner Jorge Más is one. Joe Mansueto is another. Más has, in the past, let his ambition get the better of him, with the team having broken MLS salary rules in 2020. And yes, signing Jordi Alba on a Targeted Allocation Money (TAM) deal certainly raised eyebrows, as it means that he's being paid at most $1,651,250 – a fraction of his previous salary, but Chris Henderson, Miami's General Manager, was brought in partly to make sure that the team followed the letter of the law, while also the spirit of Jorge Más.
I think that, by and large, Miami is following the rules here. Miami over the next couple years will represent the absolute maximum extent that MLS's current roster rules will let owners push. 
Will Miami be a "Death Star" and win everything? I don't know – that goal off that free kick was beautiful – but ultimately I sort of doubt it. Messi had a great World Cup in 2022, but in Copa América a year prior, the story was his teammates "winning it for him." 
But if they do become something like the Harlem Globetrotters, leaving the rest of us as Washington Generals? Great, in a way, because it may finally wake up the owners who are still against greater spending and make them realize that if they want to compete, the salary budget system that's more complicated than the social pecking order in 18th century Versailles needs to go.
Most of the owners are billionaires, and all of them spent fortunes of varying sizes buying pro sports teams. They have competitive streaks, otherwise they wouldn't be here. They might all push to win every year, but they also don't want to look like chumps.
That's why the timing of Messi's arrival is fortuitous – with the Leagues Cup finally pitting MLS teams against Liga MX teams en masse in a way we haven't seen before, the fact that MLS rosters are built to force big spenders to stumble is going to be pretty obvious, and it wouldn't surprise me if by the quarterfinal round, Liga MX teams made the bulk of the contenders despite the fact that the tournament is being played entirely as away games for the Mexican sides.
And if they don't win everything? It just goes to show that all of these salary structures allow for unsustainable spending (part of Messi's deal is that he gets 5% of the club after he retires – you can do that a maximum of nine times before you no longer have a club to give away) – without actually producing results. 
Inter Miami CF 2023-2025 represents the absolute maximum of what can be done with the current salary restrictions, bending, if not breaking them, and this is an experiment that either way will show the problems with the system. As the man says at the end of a run on the El, Miami's roster is taking the current budget rules as far as this train goes, whether that's glory for the herons in pink or an utter trainwreck as happens all too often when someone tries to assemble a dream team.
Going Forward
I'm not advocating a move towards free, unrestricted spending – even the Premier League has lost money in most of the past 10 years.  If the richest, most watched league in the world can't make money, no league with ambitions and no salary cap can. 
Instead, let's get MLS an actual salary cap and floor, just like we see in most other leagues in North America. To accommodate Messi, or, more to the point, the next Messi – and given that MLS, unlike other leagues in North America, isn't the top league in its sport worldwide – keep a DP spot – singular. Here's your cap, here's your floor, you get one out but for truly exceptional names. No more messing about with a Slovenian journeyman and slapping a DP tag on him.
Some teams will want to spend closer to the floor.  They might rely on getting lucky every once in a while, or they might end up being like Buffalo in every sport that Buffalo has a team in – competitive, rarely, but never winning anything.
Other teams might be mid-level spenders, some might rely on academies. Some clubs might develop extensive international scouting networks (the Fire are ahead here), and even consider making satellite academies in other countries, as big European clubs have done.
Because in the end, I'm pretty sure that if you gave Messi's salary (excluding his Apple TV money, his Adidas deal and so on), reportedly something in the $50 million range, to a couple of smart MLS GMs, they'd be able to assemble a roster that could handily beat Inter Miami game in and game out. They just don't have that option at the moment.
Even without increasing the salary cap significantly, some teams are reasonably big spenders by global standards. The amount Toronto FC is already spending this year – about $25 million – isn't chump change, even for major leagues in the world. It would make Toronto FC the fifth highest spender in France's Ligue 1; it would be mid-table in the German Bundesliga, per Capology. And yet, MLS roster rules necessitate that much of that spending be done wastefully, and I'm not sure that Toronto FC could beat most second division clubs in those countries right now.  More to the point, even CF Montréal, the league's lowest spender, is spending more than several teams in Ligue 1. 
Many MLS teams now have payrolls that would put them in about the 15th spot of Top Five Leagues (excluding the Premier League, where spending is just astronomical), and yet even the rosiest of MLS-colored glasses would find it hard to argue that an MLS club would outperform a Freiburg, Osasuna or Montpelier in competitive matches. The league has arrived in the big time as a spender, but by forcing teams to spend inefficiently, it hasn't arrived at the same performance level.
With the Copa América coming in 2024, the Club World Cup a year later, and the Men's World Cup in 2026 (and possibly a Women's World Cup in North America a year later), Messi's arrival comes at a time when the league is truly at the crossroads. It's not about the crowds that will show up in Messi jerseys, it's about the competitive product – or lack thereof – on the field. Easing the salary rules and letting clubs find a model that works for them gives MLS the opportunity to become one of the top leagues in the world by the time Messi hangs up his cleats, and that's what his arrival hopefully means for the league.