There is something beautifully pure and simple about knockout competitions: win or go home. That's the situation the Fire are once again in on Wednesday as they travel south to face Austin FC for the first time in a competitive match in U.S. Open Cup play.
Both teams may have to dig deep to come up with a win: It is the sixth game in 18 days for both clubs, so willpower – and possible squad rotations – will have to overcome fatigue so they can get the win necessary to continue in the competition.
Series History:
This is the first competitive meeting between the two clubs.
The Fire previously met Austin in a preseason match on February 9, 2022, in Austin, which resulted in a 1-0 victory for the Fire. 
Recent Form
Austin FC
MLS Record: 4W-4D-5L (16pts)
The Verde and Black are coming off of two wins in the previous week, away over Seattle and home over Toronto. The results were the first victories for Austin in league play since March 11, as the team had struggled with getting results, with four draws and four losses in that span. 
They beat USL Championship team New Mexico United 2-0 in their first U.S. Open Cup game of the campaign in the Round of 32, having been granted a bye in the third round due to CONCACAF Champions League appearance – one where they notably crashed and burned against Haitian team FC Violette, a club which had not played a match in nearly a year before facing Austin.
Fire
MLS Record: 3W-6D-4L (15pts)
A second yellow by Federico Navarro in just the 26th minute resulted in the Fire with 10 men for the majority of the game as they hosted Atlanta on Saturday. Atlanta would capitalize just three minutes later, but the Fire refused to take the hint as they managed to get on the ledger in the last few minutes of the first half off of an Atlanta own goal. Early in the 2nd half, Maren Haile-Selassie would put the shorthanded hosts ahead. Atlanta's Giorgios Giakoumakis responded with a brace, however, putting the Fire behind. The Fire's own Greek striker Georgios Koutsias responded with a goal of his own in the 89' giving the Fire a point, preserving their undefeated run at Soldier Field in 2023. 
The Storyline 
We at MenInRed97 are unabashed in our love for the Cup, with its rich history and magic. The open nature of the competition, where even amateur sides can go toe-to-toe with top-division teams adds an allure not normally seen in professional sports in this country, especially in this century. It is the rare remaining contest of athletic prowess that is a metaphor for the nobility of humanity, with historic moments forged by the love of the game, celebrating the human potential to achieve excellence.
In addition to its own merits, the competition can be a salve for teams facing disappointment in league play, a situation that largely describes both Austin, with 16 points, and Chicago, with 15 points (both clubs have played 13 matches). Proceeding in the Cup, although it adds to schedule congestion, can bring confidence and camaraderie to a locker room and give fans something to cheer about.
Despite two wins over the past week, it's certainly something Austin could use, given their unceremonious early exit from CONCACAF Champions League and the rough stretch that has led the team to a -5 goal differential, despite their recent wins. 
A boost from a strong Cup performance would also be welcome for the Fire, whose strong play with ten men against Atlanta was enough to secure a point, but not a win that would have been as significant psychologically as it would have been in the standings, with the Fire sitting in next-to-last place in their conference (though also only a few points removed from a playoff spot). 
The importance of a U.S. Open Cup victory is something that both coaches know well – both Austin FC Head Coach Josh Wolff and Fire Head Coach Frank Klopas were on the pitch for the Fire during the team's 1998 Cup victory. In that first match, Klopas came off the bench in extra time to score the golden goal. Two years later, Wolff would tie for leading scorer of the competition en route to a second Cup victory with the Fire. 
Expect both coaches to instill lessons from their past Cup experiences and do all they can to motivate their match-wearied squads to seize the moment and secure a berth in the U.S. Open Cup quarterfinals. There's every reason to believe that both coaches, having felt the Cup cast its spell as they lifted it in victory, will roll out their best XIs or something very close to them, schedule congestion notwithstanding.
The winner of this match will host the winner of the Houston-Minnesota game which starts a half hour before the Fire take to the pitch to face Austin.
Tactics and Projected Starting Lineups
Austin FC
Availability Report:
Out: Sebastian Druissi, Zan Kolmanić, Owen Wolff

Austin have typically been lining up in a 3-4-2-1, though it's sometimes described as a 3-4-3. Regardless of how they line up (or, more to the point, how it's described), however, Wolff has his team using a style of positional play that's unique in MLS. The style is essentially a sort of descendent of Total Football (of Johan Cruyff and more recently Ted Lasso Fame), and is heavily inspired by the tactics utilized by Pep Guardiola and others at some of the bigger clubs in Europe. 
Positional play, at its core, divides the pitch into zones and asks that a player be in the right place at the right time depending on events in-game, trying to create overloads in ways that aren't easily done with traditional formation-based play or man-marking-based systems. As such, though formations are a good starting point, they're more fluid than they are in most other systems, and players wind up "out of position" – quotes intended – as a result.
The system requires every player on the pitch to understand what is happening in the game and how to respond, sometimes asking players to be comfortable rotating far outside of their normal position of play. As Tifo football puts it, "positional play is fundamentally a number of simple ideas which, together are extremely difficult to coach and implement correctly." 
When it works, it works, but – at the risk of a tautology – when it doesn't it doesn't. Last year, it worked, sending Austin FC to second place in the Western Conference with a +16 goal differential. This year, it largely hasn't worked and the results have reflected that.
What changed? Well, in a word, nothing: According to American Soccer Analysis, Austin outshot their expected goal differential by an insane +18. Their performance this year is closer to their expected level in the previous year, though part of the issue is likely that the style is physically and mentally demanding to get right, and if it isn't close to perfect, things fall apart rapidly. 
Core to Austin's performance has been the play of Sebastian Druissi, who has been their best player since joining the team's inaugural season in 2021. He also will be unavailable for this game. The 2023 edition of the team has played better than they would have in previous years with his absence – both their wins last week came when he was injured – but he is still their dominant threat. 
Chicago Fire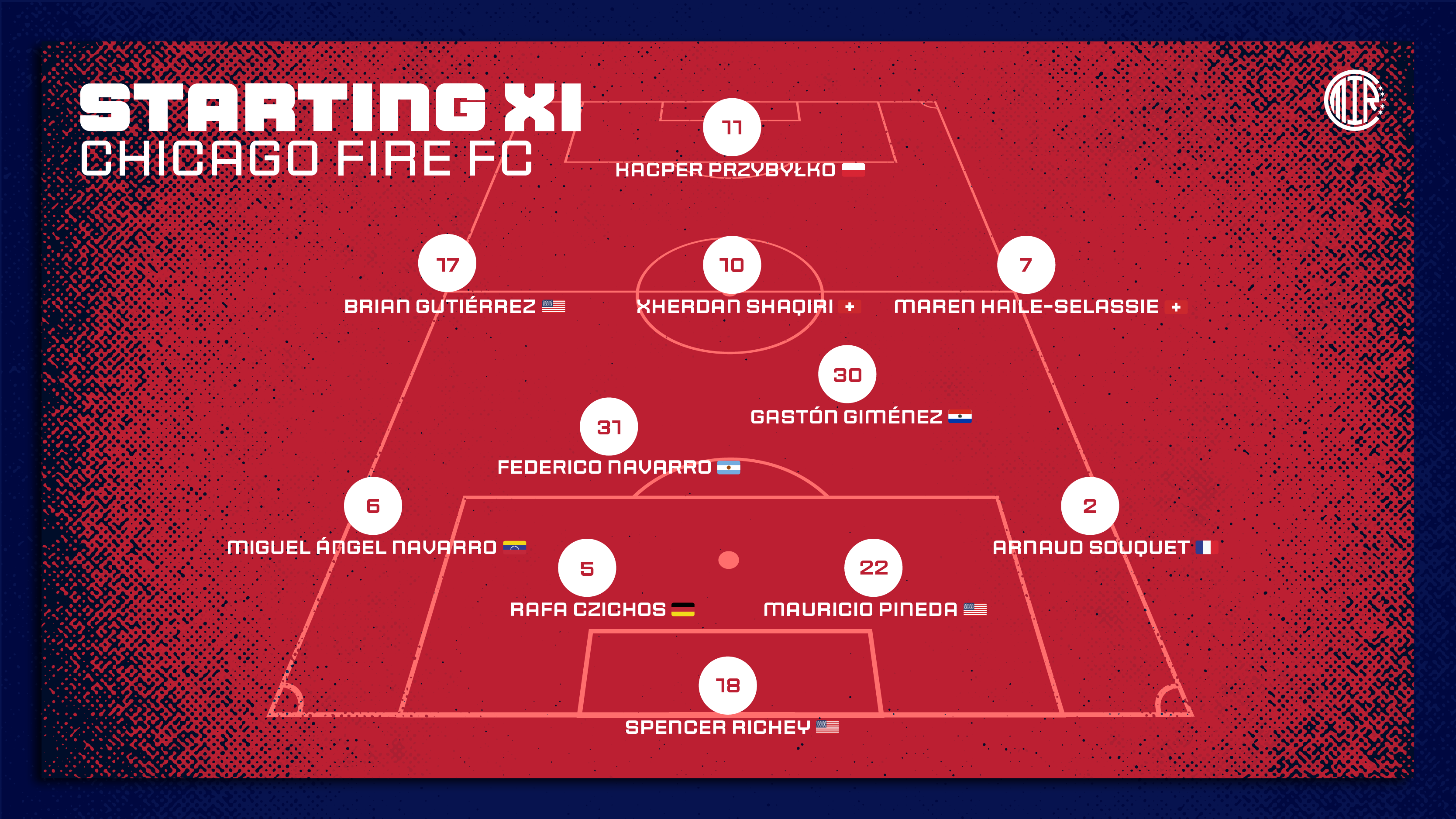 Injury Report:
Out: Jonathan Dean, Carlos Terán
Questionable: Kei Kamara

Theoretically, given fixture congestion and injuries, Frank Klopas has a choice to make: Does he rest key starters knowing that the team has to play three more games, or does he play the best team available for the mid-week matchup? 
In reality, it isn't a choice and he knows it: He will play the XI that he believes will give the team the best chance of winning. That means that Brian Gutiérrez, Xherdan Shaqiri, freshly regenerated, and Maren Haile-Selassie will likely start in the attack.
There's an off chance that may involve starting a rested player and hoping the team ends up ahead with a planned substitution, but realistically, Klopas will play the players that will help the team win.
Unfortunately, the best lineup available to Klopas all but likely won't include Kei Kamara, who picked up an injury in training on Friday which rendered him unavailable last Saturday and will probably keep him off the pitch in Austin. Kacper Przybyłko will likely start in his stead, though slowly but surely, Giorgios Koutsias is earning the case for minutes.
Injuries will also preclude the participation of Jonathan Dean and Carlos Terán, two backs who have previously been difference makers for the Fire at key moments of the campaign. This leaves the likely back line of Miguel Ángel Navarro, Rafa Czichos, Mauricio Pineda and Arnaud Souquet ahead of Spencer Richey, who has become the Fire's goaltender of choice in Open Cup play.
The lineup almost certainly will include the full participation of Federico Navarro, whose double booking against Atlanta has rendered him ineligible to play against New England on Saturday. The fact that he'll have a full week off means that Klopas will expect him to give it his all for the full extent of the match on Saturday.
For that same reason, although isn't a likely starter, Fabian Herbers (now with five yellows and himself out for the next match) will likely get significant minutes in relief of… well, at this stage anyone from Federico Navarro on up the pitch, though most likely for Gastón Giménez, who will likely start alongside Fede, or one of the players on the wing. 
Because the team hasn't had much time to work out other tactics, they will likely play out of a 4-2-3-1, but don't be surprised to see new ideas slowly getting infused to the formation and eventually for it to change – it just isn't likely for this match given the lack of time between matchdays.
Klopas will start his best players and hope that preparation and fortune mean that he can use the bench to relieve key starters early. 
Fire Keys to Victory
Key plays from key players: It can't be overstated how much a reinvigorated Shaqiri changes the calculation of the Fire's opponents, but he isn't the only capable playmaker the Fire have. Defending against him means not defending against someone else. If all of the playmakers the Fire have can stick to their games, the Fire can create chances and get some of them in the back of the net. It isn't quite as simple as the Fire having had one hand tied behind their back, but with Shaqiri's reinvigorated play, it's worth remembering the guy showed up here with a decent reference or two on his CV.
Heads up, eyes open:

Have you seen (or do you remember) playing the game when you were, say five or six years old? Watching kids that age play, a clear trend emerges: Wherever the ball is, everyone on the pitch follows, as quickly as little legs will take them. Guess what? Wolff's (and Pep's) positional play relies on the fact that the magnetism of the ball never entirely goes away, even with full professionals. By attracting players to the ball and keeping a strict order of where your players can be, space opens up. By keeping your heads up and eyes open and being aware of the unmarked man, the Fire can take that advantage away on both sides of the ball.

Play to win:

The Fire are scheduled to play 10 matches in the month-and-a-couple-days between April 29 and June 3 – plus a midweek match June 6 or 7 if they beat Austin, with another game June 10. Fatigue, mental and physical is a factor, but this is a must-win game in a tournament that the Fire have played well in, both this year and historically. They have to wake up 
Panel Predictions
Alex Calabrese
Going on the road to Austin, who are also taking the Open Cup seriously, will be the toughest test of the run so far. Klopas will get his team up for it, and the Men in Red will take it in a shootout.
Prediction: Austin 1-1p Fire
John Carollo
"Bright lights, big city, goin to my head/I don't care, cause you don't care." To use a technical term, Austin has been "weird" this season. And past their inconsistent performances, they have a meaningful rivalry game coming up against a half-decent Houston team on Saturday. Meanwhile, the Fire are putting everything into getting #5, meaning that Uncle Frankie's gonna be sending out the big guns. I don't think it'll be pretty, but it'll get the job done. Which, that's how Klopas works anyway.
Prediction: Austin 1-2 Fire
Colin Chough
Klopas masterclass at Q2.
Prediction: Austin 2-2p Fire
Christian Hirschboeck
Both teams have the attacking talent and uncertainty in defense to make for an exciting matchup. I'd expect a flunky goal or two, a last-gasp equalizer, and some goalkeeping heroics from Chris Brady to get the Fire through to the next round on pens.
Prediction: Austin 2-2p Fire
Tim Hotze
Klopas has done it before and he'll do it again. A reinvigorated Fire side wins against a Druissi-less Austin, and Klopas gives Wolff the same hug he left him with in 1998, the one that has the word υιός (or "hijo" in Austin) implied. 
Prediction: Austin 1-2 Fire
Matt Shabelman
'Cause it's our year.
Prediction: Austin 0-2 Fire
Match Information and How to Watch
Date and Time: Wednesday, May 24, 2023, 8:00 PM CT
Location: Q2 Stadium, Austin, TX
Forecast: 80' expected at kick-off, with 67% humidity, winds ENE at 5mph, 45% cloud cover, and a 15% chance of precipitation
TV: Streaming – Bleacher Report YouTube or app