Following a pair of wins over St. Louis, the Fire head back on the road where they face Charlotte at Bank of America Stadium. The match is the first midweek league match from both teams and comes at a busy time, with both clubs balancing league and U.S. Open Cup competition. 
The team will look to keep its perfect record in North Carolina, having dispatched the hosts 3-2 in their first visit to Queen City. Charlotte will look to continue their strong record in the month of May that's seen the team win its last 3 matches, including two in MLS league play and a U.S. Open Cup victory.  Charlotte are one point ahead of the Fire in the standings although the Fire have a game in hand. 
Series History:
All time:  1W-0D-1L, 5 GF, 5 GA (3 pts out of 6)
Last Match: September 17, 2022 Fire 2 – 3 Charlotte at Soldier Field 
Recent Form
Charlotte FC
Record: 4W-3D-3L (15pts)
After a rocky start, Charlotte has grown into their first full season under head coach Christian Lattanzio: After dropping their opening three games, looking outgunned and outmatched in all of them, the team has been gone 4-3-2 and with a convincing 3-1 win over regional foe Atlanta United, returning the favor the Five Stripes sent their way by thumping them at home in their second match of the season. 
The team's most recent loss was a 3-0 defeat away at DC United on April 29.
Fire
Record: 3W-5D-3L (14pts)
It's hard to believe but it's been just over a week since Frank Klopas took over, but it has. Since then, the team notched two victories in their first two games ever against expansion team St. Louis CITY SC, and the team's loss away to Nashville SC now seems like a distant memory. 
The Storyline 
Charlotte's recent string of strong on-field performance comes against the backdrop of a series of issues off the field this season, starting with the tragic death of defender Anton Walkes just before MLS teams reported for preseason, and continuing with the suspension of two players following allegations of sexual assault at the beginning of May.
Despite the issues off the field, Head Coach Christian Lattanzio seems to be cementing his team's playing style in his first full season on the job, after the club fired their first head coach just 14 games into their tenure. They've now won three straight and five of their past games across all competitions, including U.S. Open Cup victories. 
A weak start, however, puts them only a single point ahead of the Fire in the standings, but behind the Fire on both a points-per-game and goal differential (-2 to -6). Last season, Charlotte looked to be cruising towards a playoff spot before a late-season collapse saw them end the season with 42 points, good for ninth place – out of the playoffs and just three points ahead of the Fire.
Despite similar results this year and last, the narrative around the league seems to be that Charlotte FC should expect to be playoff bound, while the Fire will remain on the outside looking in. A congested table – just 3 points separate 6th and 15th places in the Eastern Conference – makes the standings almost meaningless at this point in the season, but a win in the Queen City would give the Fire 17 points in 12 games for a 1.42 point-per-game average, a pace that is almost certainly good enough for a playoff spot. 
The Fire pulled off a 3-2 victory in their first visit to Charlotte last August off a Kacper Przybyłko brace as he out-dueled fellow Pole Karol Świderski.
If Fire Head Coach Frank Klopas's team can get a similar result as last year in his first away match in this stint leading the dugout, the Fire would once again be in a place where they'd be very firmly in the playoff race. 
Tactics and Projected Starting Lineups
Charlotte FC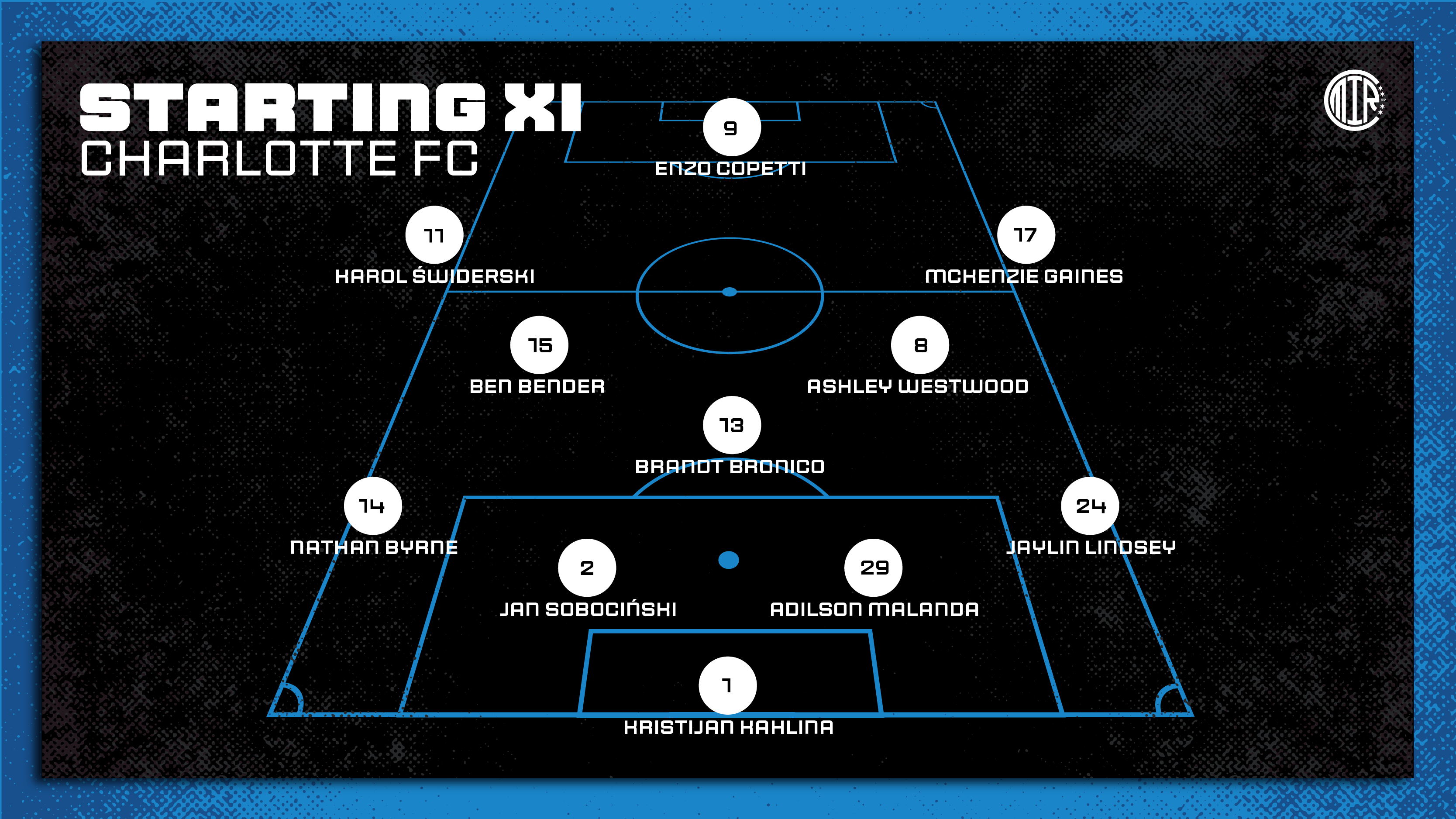 Availability Report:
Out: Guzman Corujo, George Marks
Questionable: Kamil Jozwiak, Joseph Mora, Bill Tuiloma, Kerwin Vargas 
As Lattanzio nears his first anniversary as head coach of Charlotte FC, his team has started to settle into a fairly consistent system, though injuries – including to Kamil Jóźwiak, who had all but been a lock for the Charlotte Midfield – have forced him to get creative with his lineup choices.
Nowhere is that more evident than the back line, #2 Jan Sobochiński and #29 Adilson Malanda both got the job done in Atlanta on Saturday.  
The team plays a possession-based system where the full backs – most likely #14 Nathan Byrne and #24 Jaylin Lindsey in this match given the aforementioned injuries – advance up the field when the team has possession and become fully integrated into the attack.
This allows two of Charlotte's midfielders to essentially act as dual #10s and get the ball to the feet of one of Charlotte's DP attackers, either Enzo Copetti or Karol Świderski. The idea is that between the striker, two wingers, inverted full-backs and two attacking midfielders, an overload will happen somewhere getting that person the ball will result in a good opportunity. 
Though Świderski played more of a traditional striker last year, this year he's at times been used more like a false #9, creating for DP Enzo Copetti when they're both on the pitch; given that Copetti and Świderski are by far Charlotte's most dangerous attackers, Lattanzio may opt to rest one of them given how congested Charlotte's schedule is coming up. If he does, #22 Justin Meram is likely the next one up – he's played well and scored a brace over the weekend. 
Former Fire player Brandt Bronico (#13), now fully committed to a mullet, typically plays the more defensive role in the midfield but will cycle in and become involved in the attack – he looked particularly dangerous last week against Atlanta, while Kristijan Kahlina will all but certainly start in goal. 
Chicago Fire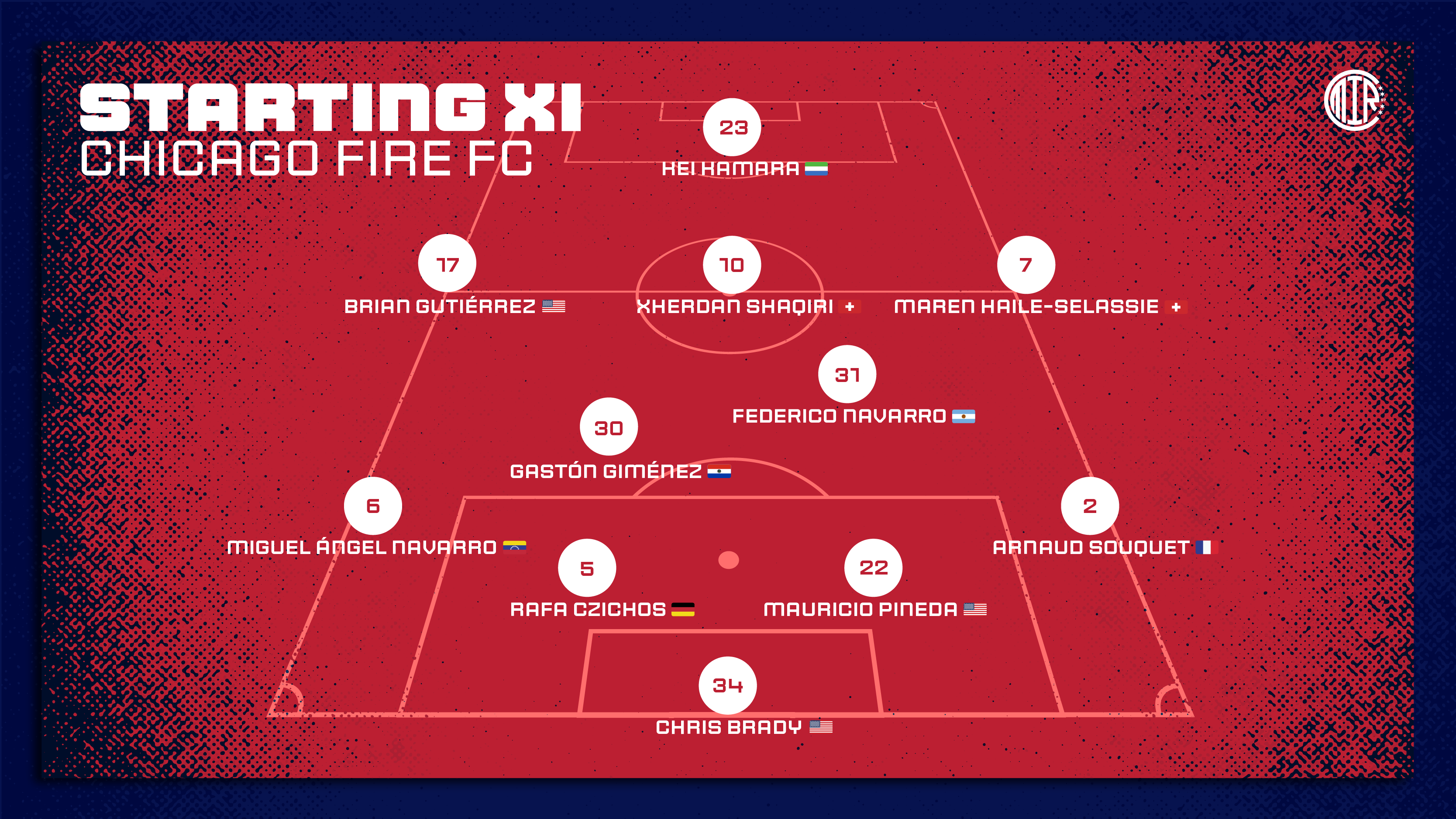 Injury Report:
Questionable: Chris Mueller
Out: Jonathan Dean, Carlos Terán
Although the days of Hendrickson's 4-2-3-1 system might be numbered, it still seems the obvious choice for his third game in the nine days since he took charge of the team for two reasons: One, the team hasn't exactly had a ton of time to practice new tactics, and two, with two victories in his first two games back, why mess with what works?
One thing that will be changing: after a strong promising start, Carlos Terán left injured about a third of the way through Saturday's game and is out against Charlotte.  Rafael Czichos, coming off his goal on Saturday (and working his way back to full match fitness) will likely start alongside Mauricio Pineda, who finds himself back in the good graces of his head coach after falling out of Ezra Hendrickson's favor.
Miguel Ángel Navarro and Arnaud Souquet will likely start alongside them; both have been playing well of late, ahead of Chris Brady, who will likely continue to start league games as Richey takes over duties during Open Cup matches.
Ahead of them, Gaston Giménez and Federico Navarro will continue to be the team's preferred options as long as they play in a 4-2-3-1, though Giménez will need to be cautious – with four yellows to his credit this season, he's just one card away from being suspended for a match. 
In the attacking midfield, Shaqiri's strong play against St. Louis has all but certainly earned him another start at #10, with Brian Gutiérrez and Maren Haile-Selassie, now returned from concussion protocol, starting alongside. Haile-Selassie's speed and ability to get behind opposition lines was missed last Saturday, even if the team won in his absence. 
At striker, Klopas has a difficult choice to make: 38-year-young Kei Kamara has indisputably been the team's most effective player at the position, but given his age and schedule congestion, should he be a week-in, week-out starter? He likely will but if not, Kacper Przybylko is the second option.  Georgios Koutsias showed flashes of potential but has ultimately been ineffective in his limited minutes since coming to the team. 
Fire Keys to Victory
Stay alert in the midfield:

Charlotte's attack relies on overwhelming defensive midfielders and the back line with sheer numbers.  To keep that from happening, controlling the game in the midfield is essential. Gastón and Fede have both been doing a good job preventing Charlotte's attack from really getting started, and once it is, will need to be sure to commit to defense as Lattanzio's side pushes numbers forward.

Love Shaq: After Saturday's game, Klopas said Shaqiri "played like a DP," which was noteworthy enough that the comment was repeated around the league as Shaqiri notched his first assist of the season and earned starting Team of the Matchday honors in the process. An invigorated, engaged Shaqiri is simply a different beast than teams have had to encounter when facing the Fire this season and literally changes the game, requiring teams to focus on defending Shaqiri and thereby giving space to others. He'll need to keep it up.
Focus, focus, focus:

The team are playing their fourth game at their fourth venue in 11 days and their next match is just three days after, and the squad has had a coaching change in that stretch. Fatigue, both mental and physical, becomes a real possibility and slip-ups can lead to goals and disciplinary issues. Gaston Giménez and Fabian Herbers are close to missing a match due to yellow card accumulation, and Miguel Ángel Navarro and Mauricio Pineda are two cards away.  Playing hard is essential to getting results but the Fire – and these players specifically – have to play smart during this busy stretch.
Panel Predictions
Alex Calabrese
Charlotte are sneaky good right now. This will be a difficult game for the Fire. However, I think Kamara has another goal in him, even if he's coming off the bench.
Prediction: Charlotte 1-1 Fire
John Carollo
"I'm not some mega-church style preacher/But my spirit is revived/It's good to be alive" I don't think I trust either team in this situation, but I think that when you combine the bounce that we've gotten from Klopas as coach and the sheer mediocrity that Charlotte's been stuck in all season (even with their recent two wins) you're gonna end up with a win for the Fire. But I also can't see Charlotte not scoring some goals. So, we're gonna have a fun one. 
Prediction: Charlotte 2-4 Fire
Colin Chough
The Fire continue their good run of form under Klopas.
Prediction: Charlotte 1-2 Fire
Christian Hirschboeck
Although Charlotte did get an impressive win over Atlanta last match day, the rest of their season has been lackluster. The Fire have solid momentum at the moment and all signs point to three points.
Prediction: Charlotte 0-2 Fire
Tim Hotze
Charlotte's back line is very banged up and an engaged trio of Shaq, Guti and Maren can make their life miserable. Klopas continues to be a talisman for the team.
Prediction: Charlotte 1-2 Fire
Matt Shabelman 
Prediction: Charlotte 1-3 Fire
Match Information and How to Watch
Date and Time: Wednesday, May 17, 2023, 6:30 PM CT
Location: Bank of America Stadium, Charlotte, NC
Forecast: 82'F expected at kickoff, winds SW at 7-10mph with 33% humidity and a 2% of precipitation
TV: Apple TV – MLS Season Pass
Radio: wlsam.com (English), TUDN 1200 AM (Spanish)