For the first time in nearly a month, the Fire will play a game in front of a home crowd as they host Nashville SC on Saturday. 
The game starts a homestand that will see the team play three games at home in a span of eight days – the last time this season that the Fire will play two league home games in a row until October. In a league with a heavy home-field advantage, the stretch is crucial for the Fire if they want to start climbing the standings in search of a spot in the postseason.
Based on where teams are in the standings, Nashville SC is the Fire's toughest opponent for the remainder of the season, and the Fire parted ways with former Head Coach Ezra Hendrickson shortly after their last meeting resulted in a 3-0 loss for the club.
Series History:
All time: 0W-2D-2L, 3GF, 10 GA
Last Match: May 6, 2023: Nashville 3-0 Fire at GEODIS Park, Nashville, Tn.
Recent Form
Nashville SC
Record: 11W-5D-5L (38pts)
Walker Zimmerman earned a red card in the 64th minute, but D.C. still couldn't capitalize as the team went on to a 2-0 victory off a first-half brace from Randall Leal. Prior to that, they'd actually lost two in a row, falling at Columbus and Montréal and settling for a draw in Toronto on June 10. Their last road victory came against FC Dallas on June 3.
Fire
Record: 5W-8D-7L (23pts)
Fire lost in Orlando last Saturday in a game where they had about 50% of possession but couldn't convert, save off of a Xherdan Shaqiri penalty, though officiating was a significant factor in the scoreline and expected goals were closer for the two teams. Prior to that, the team opened up the second half of its league season with road wins over Portland and Kansas City. The team's only home loss in league play came in their most recent home match on June 10 against the other team in MLS that wears yellow.
The Storyline 
The Fire have three games left, all at home before the Leagues Cup, and it's difficult to overstate their significance to the team's playoff aspirations. Though the team managed two road wins on a three-game road stand, winning at home is the bread-and-butter of almost every team that makes it to the postseason. On average, home teams win about half their games, and road teams win only about a quarter in the league, and after the Leagues Cup, the team has just five home games remaining, two of which come in early October, when the team's destiny may already be set. 
If the team makes the most of the homestand, they'll finally have some breathing room and should be in the range they need to make the postseason, at least on a points-per-game basis; settling for draws or losses won't put the fire out of the running for the postseason but means they'd need to perform at a Supporters Shield-winning pace through their final 11 games of the season to try to elbow their way into ninth place. 
Nashville, however, won't make the start of the Fire's return to Soldier Field easy. In the 11 games the team has played since they hosted the Fire, they've won six and lost just two, and the team is second in the overall league table behind FC Cincinnati in the Supporter's Shield race.
For their part, Nashville have been playing with the confidence you'd expect from a squad with its record and from a team that has made the postseason each year of its existence, playing with a coherent identity and a relatively stable squad laden with veteran talent. Between that and their record – the Fire are winless against them – Nashville won't be afraid to face the Fire on the road – even if it's a Fire team that has only lost once at Soldier Field this year.
Tactics and Projected Starting Lineups
Nashville SC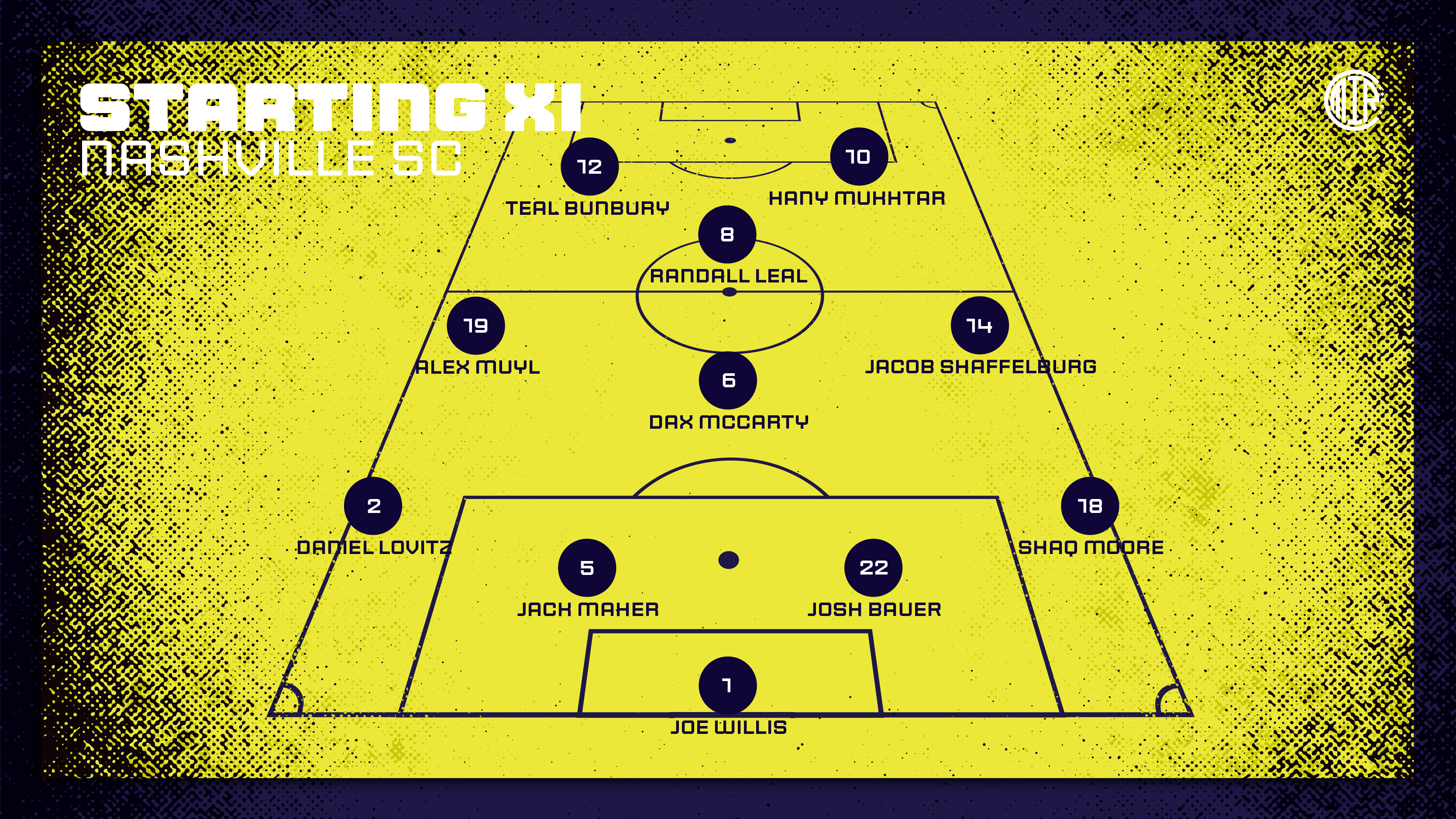 Availability Report:
Out: Aníbal Godoy, Nick DePuy, Jacob Shaffelburg
Suspended: Walker Zimmerman

Nashville still plays the same brand of soccer based around a high press they did when the Fire last faced them, but unlike that first, the team now plays primarily out of a 4-3-1-2, and the team has grown more comfortable in possession – as often happens when teams high-pressing teams find ways to adapt their game and keep on winning (St. Louis, take note of this in a year or so). Head Coach Gary Smith is still English, so he must be preparing to renounce his passport. 
Still, a lot of what held true in May holds true now: Hany Mukhtar, last season's winner of the Landon Donovan Award as MLS MVP, is still playing like an MVP and is making a strong case for becoming the first back-to-back winner of that accolade (and thereby joining Preki as the second player to win the award twice): He the league leader in goals with 13, and is tied for 5th place in the league with eight assists. The secret to his success? Getting shots on target: He leads the league with 35 so far this season (and has made 76 shots in total, third in the league).
Despite the numbers, he remains more of a creative force than an out-and-out striker, part of the reason that Smith lines up the squad in a dual striker system, particularly when he's not playing in an actual #10 role. When up top, he's normally paired with either Jacob Schaffelburg or #12 Tela Bunbury. Shaffelburg won't be playing because he's got plans for Sunday – facing off against the USMNT in the Gold Cup for Canada – so Bunbury should get the start. 
In the back line, Nashville will be without Walker Zimmerman, who received a red card last week, a small mercy since he possesses not only defensive prowess but also the ability to play the ball up the field. The other mercy? Nashville are looking for a top-level striking talent to complement Mukhtar, and barring an absolutely last-minute deal, whoever that player may be is unlikely to be on the pitch on Saturday.
Nashville's game plan is not overly complex – be solid defensively, take advantage of opportunities that the other team gives you, trust the midfielders – including former Fire Captain Dax McCarty, now wearing the #6 shit for Nashville – to be able to help defend, build out from the back, and hold depending on the game state. 
It's simple, and so far, it's worked.
Chicago Fire
Injury Report:
Out: Victor Bezerra, Javier Casas, Jr, Chris Mueller, Federico Navarro, Wyatt Omsberg
Suspended: Arnaud Souquet
The last time the Fire played Nashville, one thing seemed certain: Ezra Hendrickson would line up the team in a 4-2-3-1. As unpredictable as the Fire have been, "Ezra Hendrickson 4-2-3-1" had become something consistent and dependable – comfortable, if not always comforting, exactly. 
Well, Hendrickson didn't line up the team in a 4-2-3-1 against Nashville, the team didn't win, and the next day, he was out of a job. It turns out that neither the formation nor the coach would be constant.
Yet Fire Head Coach Frank Klopas is likely to do what his predecessor did not and line the team up in a 4-2-3-1 formation. Why? The primary alternative option that we've seen the team try involves playing a kind of 3-4-2-1, with three center backs, two wingbacks, two defensive midfielders, two attacking midfielders, and a sole striker. 
Arnaud Souquet is the team's most experienced wingback, and he's out for the match, having been shown a red last week. Playing wingbacks forward also leaves the team susceptible on counters – which is basically Nashville's default gameplan – forcing the wingbacks and the defensive midfield to be sharp, but Fede Navarro, the team's best defensive-minded defensive midfielder, is also out.
So: A 4-2-3-1 is something that the squad knows well. The tactics have evolved since Hendrickson's departure, however. The team nominally had Shaqiri playing the #10 and Gutiérrez to his left, but in reality, Gutiérrez found himself more centrally located on more than one occasion, and Shaqiri often played wide.  
Don't be surprised if we see more of the same, though Maren Haile-Selassie will likely return to his starting role, as should Miguel Ángel Navarro in lieu of Alonso Aceves. With Souquet out, Jonathan Dean should get the nod. 
In the midfield, although relief is coming in the form of Ousmane Doumbia, he won't be available Saturday, and Mauricio Pineda is likely to start again in that spot, though Jairo Torres and Fabian Herbers are both more offensively-minded options.
With three matches this week, some squad rotation is inevitable. Nashville is the toughest – read least beatable – opponent the Fire face, whether Klopas wants to try to take the bull by the horns or to rest players to save legs for weaker opponents in the coming days. 
Fire Keys to Victory
SHOOT. THE. BALL.:

Remember talking about Hany Mukhtar leading the league in goals…. And shots? It's almost like they're correlated (they are).  The team took just eight shots on Saturday and didn't score a goal in open play. The team needs to shoot more if they want to score more.  This is going to be a repeated feature here until something changes.

Mid isn't mid:

As Nashville has adapted to a more possession-oriented game, they've played through the midfield more, led by McCarty and Leal, both of whom have been highly effective. The team that outduels the other defensive midfielders – knowing when to join the attack, when to support the defense, and playing the ball forward effectively – has a very good chance of getting the result they want.

Mind the yellows:

Both Carlos Terán and Mauricio Pineda are likely to start, and both have four yellows. Czichos has three. Herbers and Miggy Navarro have six – two away from a second suspension. All of the players are essential in the next few games and the last thing the Fire need is to have players missing against what look to be winnable matches in the upcoming week. (Similarly, Bunbury, McCarty and Taylor Washington all have four yellows for Nashville, and the Fire should be aware that they need to be cautious). 
Panel Predictions
Alex Calabrese
The Fire often seem to pull off big performances in these big summer games, regardless of the opponent. I could see that happening again, despite Nashville's status as a top-three team in MLS.
Prediction: Fire 2-1 Nashville
John Carollo
"Cause I really wanna stay at your house. And I hope this works out."
This homestand is literally the entire season right now. I think I've been sorta clear that the Fire's season was honestly already over way earlier due to choosing to have an interim for 2/3rds of the season and then bombing out of the Open Cup, but this is really the moment for the Fire to at least try to make it to the playoffs. But, much like the song I'm referencing itself, this will likely end up with me in tears wondering why I do this to myself. But you hope for the best; expect the worst.
Prediction: Fire 2-3 Nashville
Christian Hirschboeck
Hany Mukhtar, Xherdan Shaqiri. That's it.
Prediction: Fire 1-3 Nashville
Tim Hotze
Nashville play better as a team, but the Fire are at home. A draw is a good start to their time back at Soldier Field.
Prediction: Fire 2-2 Nashville
Matt Shabelman
Prediction: Fire 2-1 Nashville
Match Information and How to Watch
Date and Time: Saturday, July 8, 2023, 7:30PM CT
Location: Soldier Field, Chicago, Ill
Forecast: 70° expected at kick-off, with 62% humidity, winds NE at 7 mph, 21% cloud cover, and a 2% chance of precipitation
TV: Apple TV – MLS Season Pass
Radio: 890 WLS-AM (English), TUDN 1200 AM (Spanish)