The 2023 MLS season is now upon us, and the Chicago Fire return for their 26th season in the league. Ezra Hendrickson's team had many highs and lows last season and missed the playoffs, but there were many promising signs that the team will look to build on in the new year. While 2022 was ultimately not a success, the turning of the calendar brings a clean slate, and the Fire will have the opportunity to begin to fill it when their season starts on March 4th. As that date fast approaches, let's take a deep dive into how the team shapes up heading into the year, and what we can expect to see from the Men in Red.
To begin, let's look back at the 2022 season. The team entered their silver jubilee year with a new logo, a new coach, and a new Swiss superstar DP. It was Ezra Hendrickson's first season as a head coach in MLS, and he promised that there would be a learning curve, but to the surprise of many, the Fire started the year with an unbeaten run and shutout streak. It quickly fell apart, though, and they were practically out of the playoff race by midsummer following a 10-game winless run. The most significant bright spots were two young stars, Gaga Slonina and Jhon Durán, both of whom were sold to Premier League clubs for eight-digit fees by the end of the year. When it was all said and done, the Fire finished the season in 12th place in the Eastern Conference, on 39 points, 9 points out of a playoff spot.
With opening day now a week away, the roster is most likely set to what it will be when the Fire take the field against NYCFC on March 4th. As previously mentioned, Gaga Slonina and Jhon Durán were the most notable departures, but a number of others left the club as well. Starting right back Boris Sekulić's contract expired, while backup full backs Jonathan Bornstein, Andre Reynolds II, and Jhon Espinoza all departed. The full backs were replaced by Arnaud Souquet from Montpelier, Jonathan Dean from Birmingham, and homegrown Justin Reynolds, while Maren Haile-Selassie and Jeff Gal were added as reinforcements in the winger and goalkeeper positions respectively. Kei Kamara was also brought in as another option in the attack. As of right now, the team has not significantly strengthened, and it has not fully replaced its two outgoing starters. With the roster as it is right now, there are a few spots in the eleven up for grabs, but most of the team is set in stone.
The first big storyline set to develop this season is that between the posts. Gaga Slonina leaves big gloves to be filled, but luckily for the Fire, his ready-made replacement came through the Academy at the exact same time, Chris Brady. The Naperville native arguably has more raw talent than Gaga, and for a long time was regarded as the better prospect. He is a naturally gifted shot-stopper, who was statistically head and shoulders above every other goalkeeper in MLS Next Pro last season and deserves his first team opportunity. However, there is another side to this coin. Brady only has 90 career MLS minutes, and playing in the big league will be a big step up from the level of competition with Fire II and the U-20 National Team. There will be a learning curve, and there may be some growing pains, just like there were for Gaga in 2021 and 2022. However, it is truly remarkable that the Fire are going into another season with a different teenage goalkeeper as the go-to starter.
The second major plot point surrounds the man who is supposed to be the Fire's brightest star, Xherdan Shaqiri. The Swiss legend was promised to be Chicago's answer to Toronto's signing of Lorenzo Insigne, as a marquee name from Europe arrived Stateside still close to his prime. While he won Fire Player of the Year, it's hard to find someone who would say that Shaqiri's first year wasn't something of a disappointment. He only managed to score three times from open play and dealt with some injuries that limited his effectiveness. Nonetheless, his quality shone through on numerous occasions in flashes throughout the year, and if Ezra Hendrickson can get the best out of a motivated and fit Shaqiri, he can be one of the best attacking weapons in the league.
The main positional battle will be at center back; Carlos Terán and Wyatt Omsberg will battle for the starting job on the right side of the central defensive pairing next to Rafa Czichos. Omsberg had an excellent start to 2022 but was sidelined in June with a season-ending injury, and it remains to be seen how he will bounce back. Chris Mueller, Jairo Torres, Brian Gutiérrez, and Maren Haile-Selassie will likely battle for two spots in the lineup, making up the trident behind the striker with Xherdan Shaqiri likely in the #10 spot. Mueller heads into the season having enjoyed his first full break since, remarkably, the COVID shutdown; he was clearly worn down by the end of last year, and should be fresh and back to his best. Furthermore, expected new signings in the #9 and left back positions will either strengthen the lineup or add much-needed depth.
So, looking at the squad, what are the Fire's biggest strengths and weaknesses heading into the season? In terms of the starting lineup, the Fire are close to a playoff-level lineup. The midfield double pivot with Fede Navarro and Gastón Giménez was excellent last season, and with Mauricio Pineda supplying a solid backup, there is much reason for optimism. However, there are also concerns about depth. Gastón is questionable for opening day, and the next man up in that position after Pineda, Sergio Oregel, is extremely talented but is still only 17 years old and only has 20 minutes of MLS experience. Beyond those four, the only depth in the midfield comes from more untested homegrowns, like Javi Casas, and playing others out of position, like Jairo Torres and Fabian Herbers. As Giménez is someone with an injury history, and since he is coming off of a long-term injury, that depth may be tested early in the season.
The starting back line initially appears quite solid too. Rafa Czichos was one of the best center-backs in MLS last season, while both Carlos Terán and Wyatt Omsberg showed promise. Miguel Ángel Navarro has had his highs and lows since coming to MLS, but he has continued to develop into a starting-quality left back, while Arnaud Souquet arrives fresh from Ligue 1 and should slide right into the lineup. However, apart from at right center back, the depth in defense is untested. The apparent backup left back, Justin Reynolds, is yet to play a minute in MLS. Jonathan Dean, at right back, has also never played in MLS, joining from USL during the offseason. Kendall Burks will be a depth option at center back, but he too has growing to do as this is still only his second season and he hardly played last year. Pineda can fill in there too, which he has done in the past, though Ezra sees him as more of a central midfielder. As previously mentioned, Chris Brady is clearly talented in goal, but there will likely be ups and downs in his first season as the #1.
And then there's the #9 question. The lack of a reliable striker is the one thing holding back this Fire starting eleven from being playoff-quality. Kacper Przybyłko only scored five goals last season and was a huge disappointment, but with Jhon Durán's sale, he was left as the only striker on the roster with any significant MLS experience until Kei Kamara arrived a week before opening day. Przybyłko remains the incumbent, but Kamara will provide a short-term alternative. Last season, the Pole showed that he just wasn't a good system fit for the team, and he struggled with chronic back injuries throughout the year that further limited his reliability as a goalscorer. Kamara has incredible experience and is the third-highest goalscorer in league history, but at 38, it's no guarantee he will be reliable, and the Fire remain in the market for a younger forward as the primary transfer window progresses. Victor Bezerra and Missael Rodríguez are the two homegrown forwards on the roster, but neither is ready to compete for the starting job yet.
Ultimately, the Fire did not get any better with their offseason moves. The roster remains at largely the same level, though two of the team's brightest young stars left the club, with Durán in particular leaving behind a huge hole. If you were the ask Ezra Hendrickson, though, the personnel wasn't the problem, and the Fire's success will be determined by something intangible; their second-half perseverance and ability to close out games. The Fire gave up more points from winning positions than any other team in MLS last season and dropped many games which they really should have won on paper. The Fire's season was best summed up in the game that saw them eliminated from playoff contention last fall, in which they jumped to a 2-0 lead over struggling expansion side Charlotte; despite leading by two at the half, the visitors turned it around and won 3-2. If the Fire can avoid letting that kind of outcome happen again this season, they will be in with a much firmer case of being one of the nine teams from the Eastern Conference to reach the postseason.
When looking at what needs to happen for the Fire to be successful this season, though, Ezra needs to get the best out of his highest-ceiling talents. The two outfield players who have the most raw talent on the roster are Xherdan Shaqiri and Brian Gutiérrez. With Shaqiri, it's about staying fit and motivated. Without either of those attributes being locked in, he will have another ineffective season and will likely be written off as a big-money flop, and to prevent being labeled a failure in MLS, he will have to give 110% to play to his best in 2023. Even if he is good, and even if he helps the team, he is still yet to live up to his $7.5 million transfer fee and $8.1 million per year salary. As alluded to, the other player the Fire hopes can step up in order for the team to take the team to the next level is Gutiérrez. The 19-year-old is primed for a breakout season, and he needs to build upon his strong finish to 2022. Guti can do things that no one else in the Fire system can do, and very few players in North America have his natural technical talent. Gutiérrez just needs to refine that ability so that it shows more consistently and in more than just glimpses every game to fulfill his potential. With his mentality and work rate, he will absolutely be a key contributor and could even be an outside contender for Young Player of the Year if the Fire can start to click in the attack. If Ezra can get the best possible versions of those two attacking dynamos – Shaqiri and Gutiérrez – then the Fire will have found their recipe to success.
2023 will be a crucial season for the Fire. It likely marks a last chance for Sporting Director Georg Heitz and Technical Director Sebastian Peltzer, as in their three seasons in charge, the Fire are still yet to make the playoffs. There will also be a new competition to compete for – the revamped Leagues Cup – which will occur over the summer, and an expanded playoff field should, in theory, give the Fire an increased chance of reaching the postseason for the first time since 2017. There is still lots of work to do, and qualifying for even an expanded playoff field seems quite some ways off. Needless to say, with more transfer business on the way and a host of talented young stars amongst the team's core, it's impossible to write off any ambitions.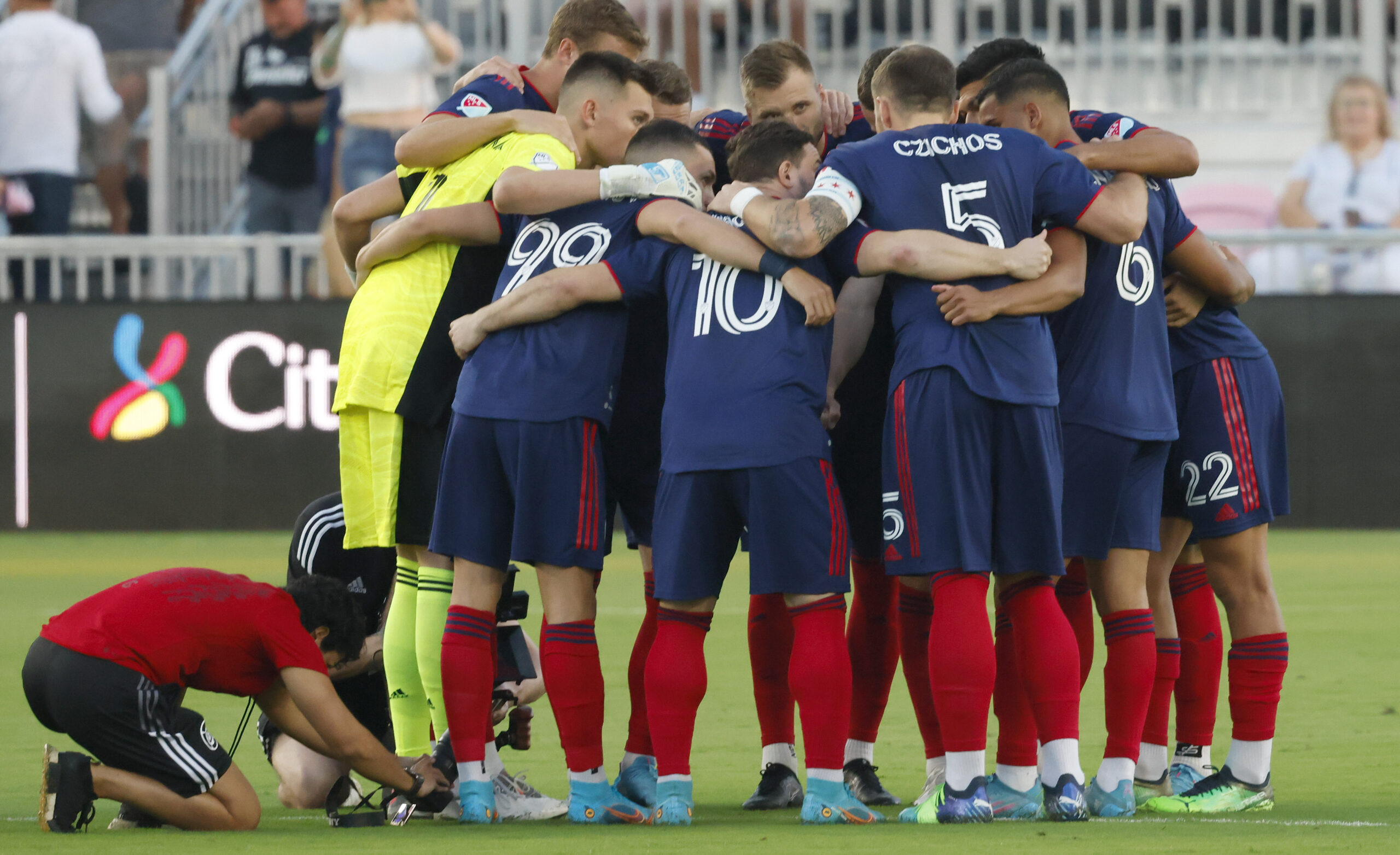 Final Predictions
MLS Position: 13th in the East (out of 15)
Open Cup: Quarterfinals
Leagues Cup: 3rd in Group C2 (out of 3)
Team MVP: Brian Gutiérrez
Top scorer: Chris Mueller
Defensive MVP: Rafa Czichos