The Fire once again find themselves in a must-win game: the knockout round of a tournament. 
Their opponent? 
Club América, is the continent's biggest, most famous, most storied club. The one with the most titles in the history of Mexican football.
It isn't the first match between the two sides, though the previous three meetings have all been friendlies. 
Say what you want about the League's Cup – that it is a made-up trophy, a cash grab, a distraction from the league season – but make no mistake: This match – which sold out SeatGeek Stadium in a matter of minutes – will have a decidedly more competitive edge than those previous meetings.
Series History
All Time (friendlies): 0W-0D-3L, 4 GF, 7 GA
Last Match: July 10, 2013: Fire 2-3 Club América at Toyota Park (SeatGeek Stadium) in Bridgeview, Ill.
Recent Form
Club América
Liga MX Record (2022-2023 Clausura): 9W-7D-1L (34 pts, 2nd place out of 18)
Liga MX Record (2023-2024 Apertura): 1W-0D-1L (3 pts, 12th place out of 18)
Leagues Cup: 1W-0D-1L
Club América start each year with an expectation – from their fans and history – to win trophies, something the club has not done since 2019 when they won Liga MX, Copa MX, and CONCACAF Champions League in one year. They came close last year – losing 3-2 on aggregate to Chivas in the semifinals of the Final Phase (playoffs) after coming in second in the 2023 Clausura. Two games into this season, they have one win and one loss, already equalling the number of losses they had in all of last season. To get to the knockout rounds, they pummeled St. Louis 4-0 last Thursday before the Columbus Crew returned the favor on Monday, defeating Las Águilas 4-1. 
Fire
MLS Record: 8W-8D-7L (32 pts)
Leagues Cup: 1W-1D-0L 
The Fire knew going into their match against Club Puebla on Monday that a draw after regulation would see them top the group, and only a loss by more than three goals would see them fail to advance. In the end, they managed a 1-1 tie through 90 and a loss in shootouts that saw the Fire top the group with four points. Whether a loss in penalty kicks that both teams knew were pointless is truly a loss is left as an exercise for the reader.
The Storyline 
Club América. Las Águilas. Las Millionetas. A team that needs no introduction. One of just two teams never to have been relegated in the 80-year history of professional football in Mexico. 
In a must-win, single-elimination knockout game against the Fire in Bridgeview. 
Ignore any talk of the Leagues Cup being a meaningless trophy – both clubs would be proud to lift it on August 19th and both clubs will do all they can to keep their campaign alive on Friday. 
Past their previous friendlies, there are several connections between the two clubs. Cuauhtémoc Blanco, one of the legends from Club América – second on the club's all-time goal-scoring list, 10th in all-time appearances – became the Fire's first designated player, and the league's second-highest-paid player after David Beckham, in 2007. Pável Pardo, who spent half his professional career with América, also joined the Fire from that club.
And Frank Klopas has unfinished business with the Águilas. He was behind the bench for the Fire's most recent friendly against América in 2013, held on the same ground as Friday's game, but he was also the coach of the 2015 Montréal Impact team that became the first MLS club to reach a CONCACAF Champions League (now Cup) final, against Club América. The Impact stunned América to a 1-1 draw in the first leg at Estadio Azteca and had every hope of lifting the trophy in front of a home crowd a week later, but fell short, losing 4-2 and 5-3 on aggregate. 
He would like nothing more than to avenge that loss on Friday and see América go home.
Tactics and Projected Starting Lineups
Club América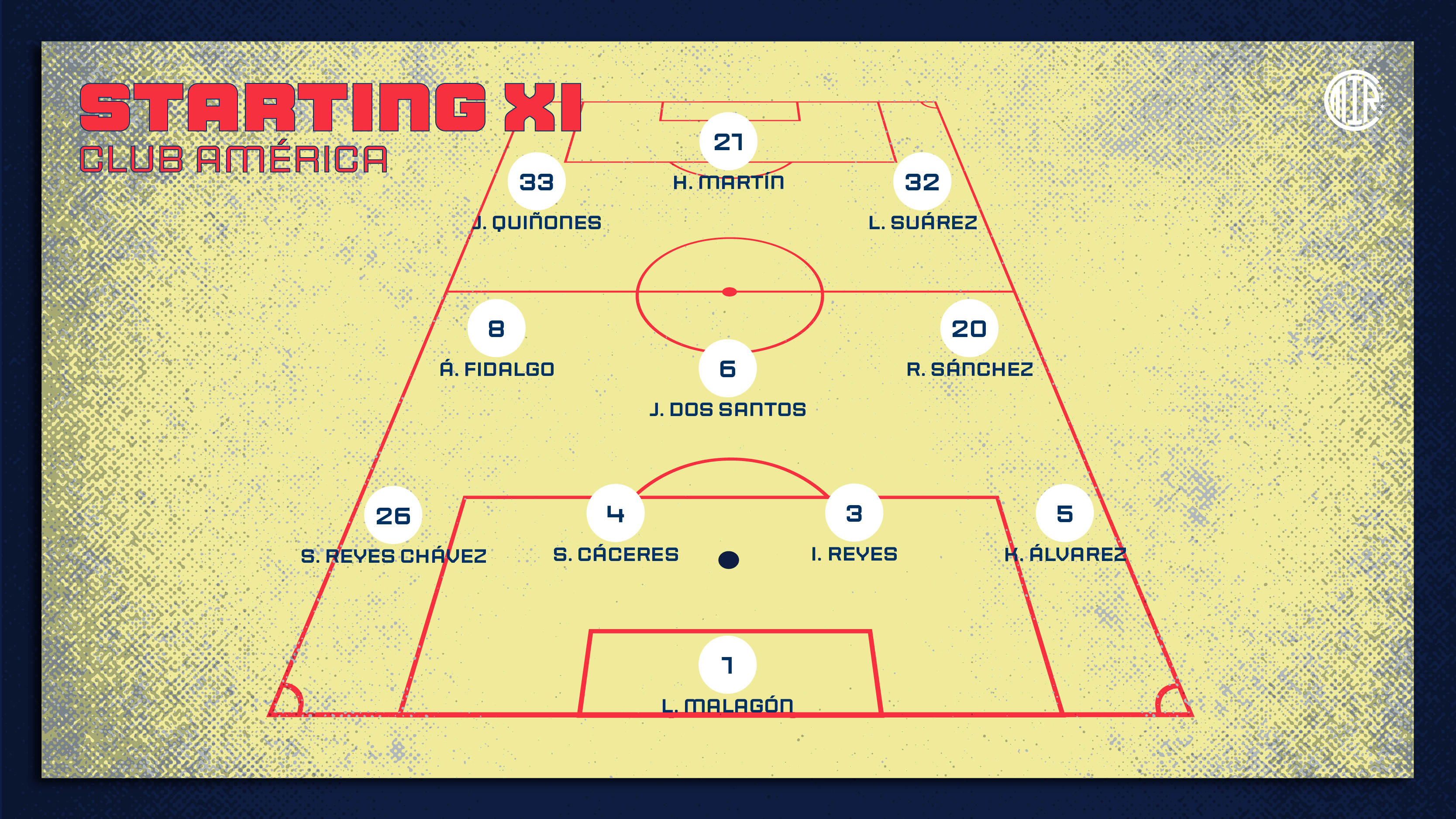 Availability Report:
(note: based on training reports and published information, not an official report)
Injured: Jonathan Rodríguez
The first thing about Club América's roster isn't just that they have skilled, dangerous players. It's that they have a lot of them. Unencumbered by MLS roster rules, América's wage bill – which by sheer numbers would make them one of the highest spenders in MLS, if not the highest in a given year – is spread efficiently throughout their roster, as opposed to being concentrated in a handful of star players. 
This isn't to say that Club América's roster in any way lacks star players, including names that would be familiar to USMNT and MLS fans, including USMNT winger Álex Zendejas (#17) and aging (but still talented) midfielder Jonathan dos Santos (#6), formerly of the L.A. Galaxy. Truthfully, though, América's strength isn't that they have strength at any one position, it's that they have strength at all of them. 
How that roster lines up Brazilian manager André Jardine is somewhat of an open question. Jardine joined the club in mid-June, having previously managed Liga MX side Athlético San Luis. While there, the club – whose entire roster likely was paid about as much as América's forwards – hit above their weight, and his San Luis side almost defeated América in the 22/23 Clausura playoffs in May, losing 4-3 on aggregate. Well, if you can barely beat 'em, have their manager join you. Prior to moving to Mexico, Jardine coached the Brazilian team to an Olympic gold medal in Tokyo. 
Jardine has only had four competitive matches with the club, going an even 2W-0D-2L in that time (which frankly is not a flattering record for a coach at this club), and it's unclear how much of the tactical system he used at San Luis will be brought over to his new club, where he has many, many more resources at his disposal.
They are happy to hold possession and have the talent to do so, but seem happiest when catching teams out of position and countering quickly, being confident in their back line and their GK, likely Luis Malagón (#1), to keep the score level with help from the defensive midfield. 
This lets them keep, arguably, the most talented trio of attackers in the continent in Henry Martín (#21), Leo Suárez (#32), and Julián Quiñones (#33) – the last of whom was a teammate of current Fire player Jairo Torres at Atlas FC – further up the pitch and ready to strike when the América recovers the ball. All three players are more than capable of finding the back of the net on their own, and they are also dynamic passers, capable of taking on defenders, drawing them out of position, and passing the ball to a waiting teammate in the open space.
Against St. Louis, Jardine started all three attackers, playing out of a 4-3-3, and by the 5th minute, Martín had found the back of the net, assisted by Suárez. Quiñones would add a second at the beginning of the second half, and the team cruised to a 4-0 victory. 
Against Columbus? Jardine played a more conservative 4-2-3-1, kept Martín on the bench until the 65th minute, and kept dos Santos in reserve until the 74th minute instead of starting in the CDM role, while also rotating out normal starting center-back Sebastián Cáceres (#4). 
He will not repeat those mistakes against the Fire. Jardine will want to return to the 4-3-3 shape that found so much success in St. Louis and hope that it returns the team to that form. Regardless, do not expect him to make the same kinds of tactical mistakes he did against the Crew.
Chicago Fire
Availability Report:
(note: based on training reports and published information, not an official report)
Out: Chris Mueller
Questionable: Victor Bezerra, Kei Kamara, Wyatt Omsberg
Here's the thing. Believe it or not, the Fire can win this one and get Frank Klopas the victory he's sought against América for the better part of a decade. 
Ultimately, St. Louis fell to Club América because they are a one-tune band and that tune is "1) press really high, counter and 2) run harder than everyone, get back on defense when things don't work out," and it didn't work when Frank Klopas figured it out (twice), and it worked even less against Club América, who live, train and play at altitude and who regardless are fast enough where they were never able to start part of that verse, let alone complete it.
The Fire have no interest in trying to score off a throat-high press the way St. Louis does, and so don't present the same obvious opportunity that the Missouri team gave América. On defense, that means making sure that fullbacks don't overcommit to attacking play – and if they commit at all they better be sure that they get back – and trusting the center backs, presumably back to the normal duo of Carlos Terán and Rafael Czichos – to do their jobs. América, despite their skill, can play with a physical dimension but they also don't have players with the physicality of either of those, something that the Fire should avail themselves of. 
Though the sample size is small with Jardine at the helm, it seems that at least at times – as against Columbus, though playing out of a different formation than they will likely roll out against the Fire – they are guilty of the sin of leaving too many players up the pitch when defending, trusting that eight or nine can handle the 11. 
When this works, it works – it gives América's capable ball progressors including Álvaro Fidalgo and Richard Sánchez multiple options for jumpstarting the attack – but it also means that there is more space for more time than you might expect against an opponent of their caliber. Columbus exploited this with a capable attack. The Fire, especially if Kei Kamara is out, do not have as obvious of a goal-dangerous threat, but Xherdan Shaqiri, especially with space, has made a reputation off of dangerous long-range strikes, and this would be a fantastic time for one. 
That would also give a runner an opportunity to crash into the box and hope for a second chance – something we haven't seen much (or any) of under Klopas but it isn't beyond the capabilities of the squad. 
One note about Jairo Torres – although he hasn't yet truly transitioned to being a contributor, he has also moved out of the realm of being a passenger, quietly but surely. He is also the one player on the Fire's squad who had a victory over Club América: on January 22nd, 2022, when he went 90 minutes at Estadio Azteca as his team secured a 2-0 victory over the home team. 
Halfway through his contract, it's unlikely he'll live up to the investment the Fire have made in him, but he is finally getting back to health and a strong performance here would go a long way to redemption.
On one hand, Klopas should roll out the best XI he possibly can.  On the other – this is still a tournament that goes straight to penalty kicks, and in the knockouts, they obviously matter.  You want to make sure you have the right players on the pitch when that happens. 
Xherdan Shaqiri went the full extent of the match on Monday. He should be expected to have a part to play on Friday, but off the bench. Against Minnesota, Brian Gutiérrez started at the #10 role and when Shaqiri came on, Gutiérrez slid left and the two had good play giving each other space and time. That's something that we may well see again. 
Club América have flaws; the Fire have talent and can exploit it. 
Fire Keys to Victory
Shoot!:

If the Fire once again manage 15 or more shots this game I will finally retire this. They did shoot against Puebla, getting 21 shots, 9 of which landed on target. They still need to keep it up.

Shaq attack:

Despite the abundance of talent that Miami have, they do not have a single player with the highlight reel from anywhere near the venues that Xherdan Shaqiri has. The Fire have not faced an opponent of this size and stature with Shaqiri in the lineup, and the

man does come with a highlight reel

.

Focus:

América can and will punish the Fire if they have any mental breakdowns. That means good man-marking off of set pieces, every player committing to every stage of the game plan. It's doable, if every player is laser-focused with their eye on the prize. 
Panel Predictions
Alex Calabrese
Frank Klopas revenge tour. This is gonna have a big-game feel like no other this season, and it's a huge opportunity to make a splash against the Real Madrid of North American soccer. Luckily, the Fire have some big game players, and I expect them to turn up.
Prediction: Fire 3-2 América
John Carollo
"Got nothing in my brain."
My head is empty. There are no thoughts.
Prediction: Fire 2-2 América (15-14) Fire win on penalties
Colin Chough
We're trophy hungry.
Prediction: Fire 3-1 América
Christian Hirschboeck
It's likely the Fire concede at least once while still comprehending Seatgeek is mostly yellow early on, however, our finishing woes will be put behind us (for just this game), with two second-half goals to get to the next round.
Prediction: Fire 2-1 América
Tim Hotze
You know I honestly think Klopas has got this. Revenge is a dish best served in Bridgeview. We finally get the Guti-Shaq night we've been hoping for.
Prediction: Fire 3-1 América
Match Information and How to Watch
Date and Time: Friday, August 4, 2023, 7:00 PM
Location: SeatGeek Stadium, Bridgeview, Ill.
Forecast: 80'F expected at kick off, with 55% humidity, winds NE at 11 mph, 45% cloud cover, and a 0% chance of precipitation
TV: Apple TV – Free, FS1, UniMás
Radio: 890 WLS-AM (English), TUDN 1200 AM (Spanish)