Following a much-needed 11-day break, the Fire head to the west coast to face the Portland Timbers, a team that they've never beaten in MLS play.
The Timbers, who have a game in hand, are narrowly clinging to the ninth place in the West and the last playoff spot that comes with that position, while the Fire are hoping to begin a climb through the standings as the second half of their season begins. 
While the Fire have yet to notch a victory against the Timbers, they do have one advantage – the well-rested Fire squad will face a Portland team that played on Saturday. 
Series History:
All time: 0W-5D-5L, 13 GF/19 GA, 5 pts out of 30
Last Match: August 14, 2019: Portland 3-2 Fire at Providence Park, Portland, Ore.
Recent Form
Portland Timbers
Record: 5W-6D-7L (21 pts) 
The Timbers played San Jose to a 0-0 draw in a match where both teams did everything possible to get a goal short of actually getting a ball in the back of the next. A week prior, they beat FC Dallas 1-0, their first victory since Portland bested Vancouver 3-1 on May 13. 
Fire
Record: 3W-8D-5L (17 pts)
The Fire hosted the Columbus Crew during their most recent match on June 10th and looked ready to claim a point thanks to an 88' tying goal at the feet of Xherdan Shaqiri…. until Lucas Zelarayán decided to take a shot from midfield that stunned Fire GK Spencer Richey, giving the visitors a 2-1 victory.  Their previous match was also a loss, at their home away from home of SeatGeek Stadium in U.S. Open Cup play, firmly ending the Fire's "undefeated at home" streak. The team's most recent victory was May 13 over St. Louis, while the team's first and only away victory in league play came March 25 against Inter Miami. 
The Storyline 
Providence Park has been a difficult place for opposition teams to play in since the Timbers entered the league in 2011, and no more so than it has been for the Fire, who have never beaten Portland at home or away, with two draws and four losses on the ledger. 
Although the Fire are playing a Portland team that has a lot of similarities to the squad they last faced in 2019, with the same head coach in Giovanni Savarese and a surprising number of the same players, the passage of time, along with the league's continued evolution, have put the Timbers at a crossroads; this squad does not look or feel like the team that came within a couple of penalty kicks of winning MLS Cup in 2021, but it also doesn't feel like a team that's really ready to let go of the past and make significant changes to the coaching, tactics or squad composition. 
The Fire will hope that that gives them an opportunity for their first win against the team in green and yellow as they look to kick off the second half of the season on the right foot.  
Three points are crucial for both teams: for Portland, it could propel them as high as sixth place before they head to face New York City on Saturday, the team that kept them from their first MLS cup two years ago. For the Fire, it could propel them to as high as eleventh in the Eastern Conference standings and give the team confidence that they can get victories on the road as they set off on a three-game road trip to begin the second half of the season. 
The Fire begin the second half one step removed from the basement of the East and yet can make a legitimate push for a playoff spot – but to paraphrase the greatest American philosopher of all time, Yogi Berra, without victories soon, the Fire's season is in danger of getting too late really early. 
Three points won't yet have a huge impact on the team's playoff chances, but a win would be a massive psychological boost for a team that needs to believe in itself – and its ability to get results away from home – if they're going to make a run this season.
Tactics and Projected Starting Lineups
Portland Timbers 
Availability Report:
Out: David Ayala, Yimmi Chará, Felipe Mora, Juan David Mosquera, Eryk Williamson
Last year, following their loss in MLS Cup, the Timbers found themselves on the outside looking in come the start of MLS playoffs, missing out on the postseason by a single point. In response, the club went out and acquired central attacking midfielder Evander, a former Brazilian youth international in a club-record signing, reported at $10 million, forward Franck Boli, and right backs Juan David Mosquera and Eric Miller but made few other changes that would impact their starting XI.
Those players were added to the aging squad that includes Diego Chara, who has been with the team since their inaugural season in 2011 and is now 37, and his younger brother Yimmi (now 32), who has been with the club for the past three years, and 35-year-old Sebastián Blanco, who has been with the team since 2017. 
That familiar – and aging – core is largely playing the same tactics that Head Coach Giovanni Savarese has played since taking the helm in 2017: The team typically plays out of a 4-2-3-1 and seems content to let opposing teams hold the lion's share of possession.
The Timbers will sit in a mid-block as they let opposition teams possess the ball, hoping that, sooner or later, they'll be able to make the opposition cough up possession, and then the Timbers will counter. 
The tactics in the attack, to the extent that they can be called that, seems to be that after winning the ball, the Timbers will get it to the feet of one of their fast wingers or their creative playmaker – historically Blanco but increasingly Evander – who will beat opposition defenders on a 1v1 and either score or set up a goal.
The problem is that the player on this roster who may be best at stripping the ball from opposition in the midfield (at least this season) is 26-year-old homegrown Eryk Williamson, who is injured, and that many of the star players are some combination of aging, injured or underperforming.

One lineup note – normal starting GK #31 Aljaž Ivačič was called up for Slovenia's Euro qualifiers over the past week and was on the bench for their first game last Friday but did not make the match day squad on Monday – so the assumption is that he will be back in Portland in and ready to start, if not, #1 David Bingham will get the nod.
Chicago Fire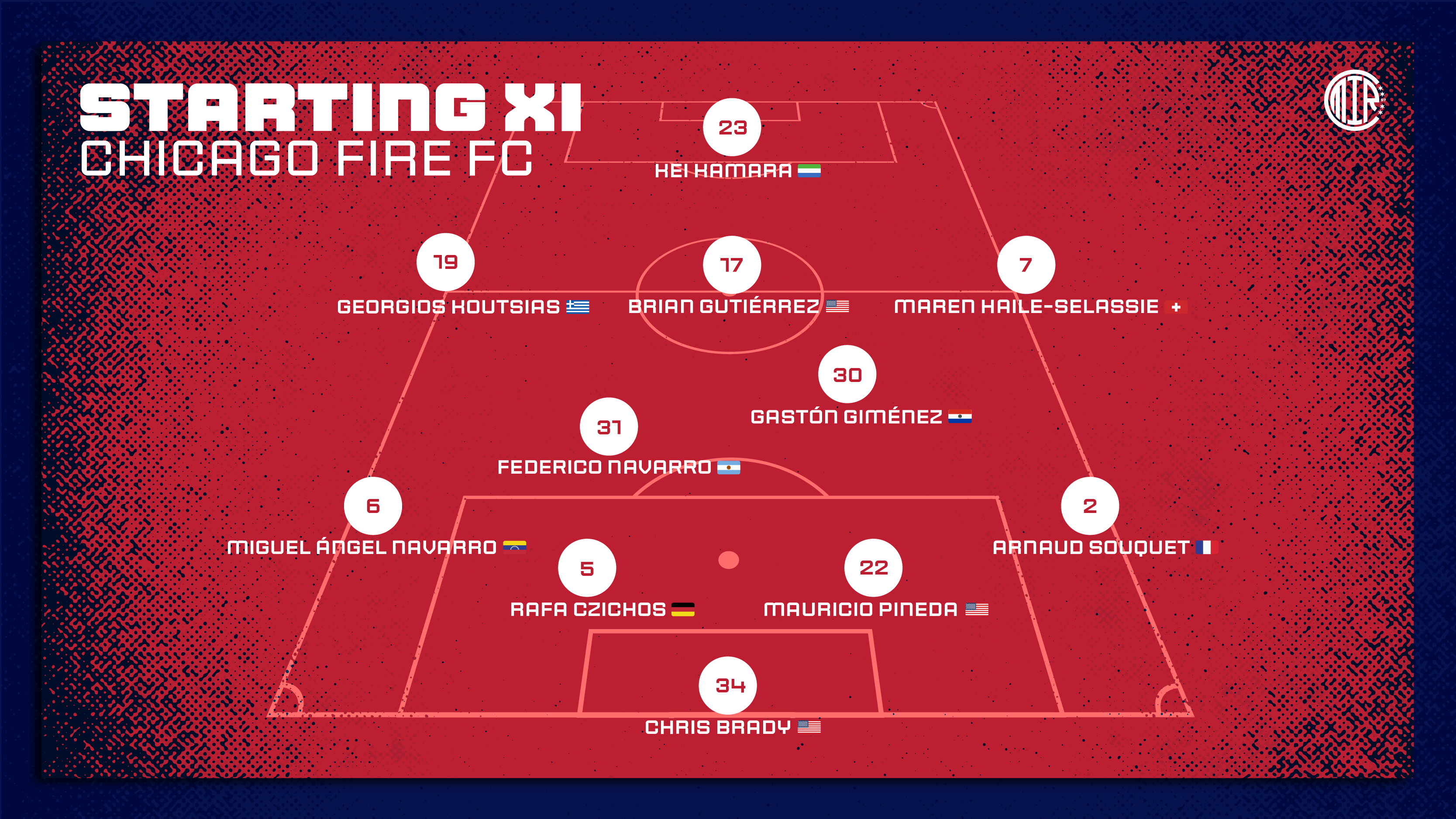 Availability Report:

Out: Chris Mueller, Carlos Terán, Javi Casas
Questionable: Maren Haile-Selassie
Fire Head Coach Frank Klopas inherited a Fire squad that, under prior Head Coach Ezra Hendrickson, had its share of ups and downs but was remarkably consistent in at least two aspects of the game:  First, They'd play out of a 4-2-3-1. 
Win, lose, or draw, against the highest-scoring team in the league or the lowest, if you put your money on the team having four in the back, with the fullbacks joining in on the attack at times, a double pivot and two wingers and a #10 feeding a solo striker, you'd have won some money (though likely not much, given how consistently the Fire would play in that formation). 
Second, off of opposition set pieces, the team wouldn't man mark and would instead play a kind of zonal marking, which, in theory at least, was designed to ensure that dangerous areas of the pitch were always covered so that opposing teams couldn't find space here it was necessary. 
So here's the thing: The 4-2-3-1 may not have always been beautiful – in fact, you could argue that it seldom was – but even if it didn't always work, it was at something, but the zonal marking never did, and in practice, at least one opposition player was far too often able to find a pocket of space in a dangerous area and enter it entirely unmarked, as if they were invisible to the defending Fire players that were around them (but not that close to them). 
Taking over the reins during the busiest time in the season and with little time to practice between matches, Frank Klopas's first move wasn't to get rid of the zonal defense but, rather, the 4-2-3-1. 
At first, it worked – playing out of a kind of 3-4-3  in the second half (though they were still listed as a 4-2-3-1), the Fire more or less ran the terms of play against Austin in the U.S. Open Cup and went on to win 2-0. The change was welcome, and because the attacking three effectively allowed both Brian Gutiérrez and Xherdan Shaqiri to play as dual #10s, it finally solved an issue the Fire had all season, where Gutiérrez was the better #10, but Shaqiri wasn't truly suited to a role as a winger.
Since then, however, the team has kept the back three but hasn't kept getting results, with two draws and three losses since that Austin match across all competitions. 
A 4-2-3-1 isn't the best formation – and there were many calls over the past year or so making good cases for why Hendrickson should change things up – but here's hoping we see a return to a back four on defense when the team lines up against Portland, and a 4-2-3-1 is the most likely option given the squad available.
Making that more likely – Shaqiri played 90' for the Swiss National Team on Monday, being subbed off in stoppage time, and 61' on Friday before being subbed off, so it's likely that he won't be available – at least to start – on Wednesday, obviating the need Klopas to find a way to accommodate him and Gutiérrez at the same time.  (The Fire's other call-up, Miguel Ángel Navarro, did not make the matchday lineups for either of Venezuela's friendlies, both of which were held in the U.S.)
Similarly, let's hope that with a week and a half with his squad to practice and (almost all) of his squad present, he's finally had time to drill the team into man-marking off corners.
Fire Keys to Victory
There. are. four. backs.:

Repeated for emphasis – although having three center-backs play with two wingbacks has some appeal – and the speed of Arnaud Souquet made it an alluring formation to try – it just hasn't worked as intended and the Fire should go back to playing a back four.  Please.

The grass isn't really greener:

Sure, Providence Park may be in the comparatively lush Pacific Northwest (and they don't share their venue with gridiron football), but the Fire need to remember that it's still a flat patch of grass with some lines on it, and the difference between a home game and a road one is mostly mental. Go out, play your game, and a result is more likely. 

Win midfield battles:

Although the Fire do press a bit higher than Portland, both squads play out of a mid-block, trying to win the ball in the middle of the pitch, and attack from there. Particularly with injuries to Portland's squad, the Fire should be the better team in the middle of the pitch. If they can control there, they should simultaneously be able to generate get the better chances while denying the Timbers opportunities to attack.
Panel Predictions
Alex Calabrese
The Fire have never beaten Portland, and have only ever won once in Cascadia. That doesn't bode well.
Prediction: Portland 3-1 Fire
John Carollo
"The corner store is selling spit/Bottled up for profit/I can't believe I'm buying in/Isn't that genius?"
I genuinely don't know what's going to happen here. Both teams come in from incredibly volatile positions. The Fire have taken consecutive blows below the belt, followed by a long break. Did the break help? Did it make it worse to sit in it for so long? Meanwhile, Portland has absolutely sucked this season and just can't figure out how to make anything work. So, what the hell do I say for a game like this? Well, the last time I gave the game a 50/50, I picked a side and forgot that sometimes games end in ties where both teams suck. It's so tangibly possible, but I don't want that. So I'm buying in, taking a Fire win just cause we all need one.
Prediction: Portland 1-2 Fire
Colin Chough
Trying to stay positive! 
Prediction: Portland 1-2 Fire
Christian Hirschboeck
Even though the majority of the squad got a rest over the international break, the Fire aren't great away (or really at all), and I can't see them getting a result here.
Prediction: Portland 2-0 Fire
Tim Hotze
I want to believe but asking for a first win-ever against Portland seems like a stretch for a road game. A point, though, is a point and a move in the right direction.
Prediction: Portland 1-1 Fire
Matt Shabelman
Prediction: Portland 1-2 Fire
Match Information and How to Watch
Date and Time: Wednesday, June 21, 9:30 PM CT
Location: Providence Park, Portland, Ore.
Forecast: 70'F expected at kick off, with 48% humidity, winds N at 8mph, 0% cloud cover, and 0% chance of precipitation
TV: Apple TV – Free
Radio: wlsam.com (English), TUDN 1200 AM (Spanish)