Note: This is the third part of a four part series. If you haven't already, check out Part I where we put the Fire's results in the past four years into context, and Part II, which looks at player signings. 
Within a few months of being hired in late 2019, Georg Heitz made 16 player signings, filling all three Designated Player spots and bringing in a number of other significant players like Boris Sekulić, Miguel Ángel Navarro, Luka Stojanovic and, in the summer, Carlos Terán.
That team failed to make a significantly expanded playoff format in what was ultimately a COVID-shortened season, but elected to essentially keep the same roster going into the next season, saying that the team had lacked "continuity," and "didn't end up in the table where we belonged."
Partly because he was hired a full 2 and a half months after the team's final game of the 2019 season, and partly because of delays in newly-signed players visas, many of the new arrivals in 2020 did not get a preseason with the team, and newly-minted Head Coach Raphaël Wicky did not get to learn about his full squad through the 2020 preseason.
Still, the decision to keep the 2020 core that came in 11th out of the then-14-team Eastern Conference and which failed to make even a drastically expanded playoff field still continues to affect the Fire's roster to this day.
This effectively means that the decisions Heitz made in his first four months on the job – before, by his own admission, he had seen the team play a match in person – continued to shape the team through the 2023 season.
The following chart shows the total player minutes by arrival year of that player from 2023. A full 39.2% of the total minutes played were by players signed in the 2020 season (all of those except Carlos Terán's 1,573 minutes were players signed in the 2020 winter window).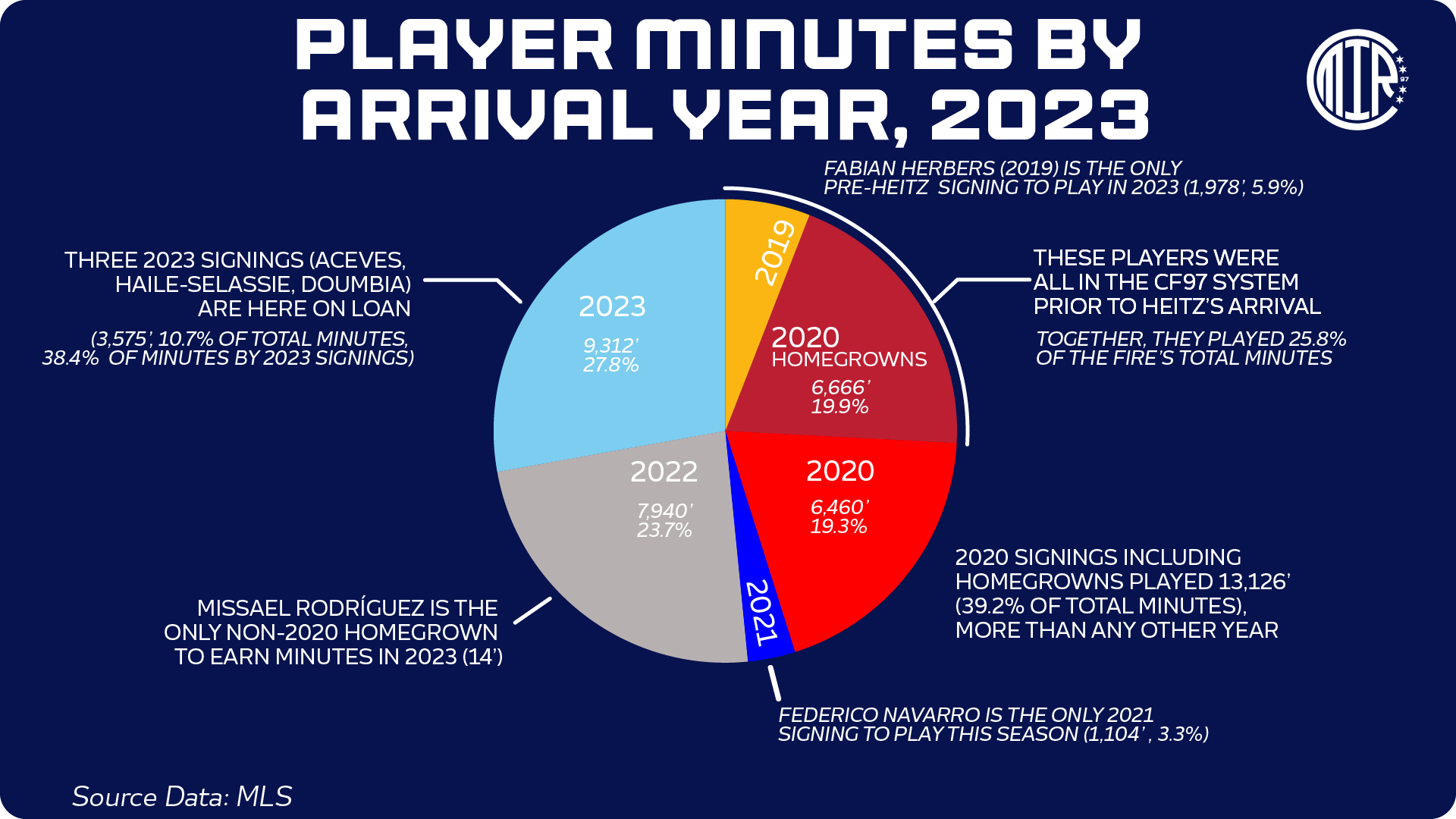 More than half of the minutes from players signed in 2020 came from homegrown players Chris Brady, Brian Gutiérrez, Mauricio Pineda, Javier Casas, and Alex Monis. While these players were signed under Heitz's tenure, all had been in the academy system for years prior to his arrival, as has Fabian Herbers, the lone first-team player remaining with the team that predates Heitz's tenure (Herbers was re-signed to a new deal in the summer of 2020 under Heitz).
Being able to rely on homegrowns for serious minutes is typically a boon to MLS roster construction since their salaries effectively do not count against the salary cap, allowing teams to focus limited funds elsewhere. (Missael Rodríguez was signed to a homegrown deal in 2022 and played 14 minutes in 2023; every other homegrown player that played with the first team last year was signed in 2020.)
Herbers has also been a great value player for the team: His four goals this past season tie him with Kacper Przybyłko (who makes nearly four times his salary) for third on the team's scoring list; he is also tied for fourth (with Kei Kamara) for total goal contributions (goals + assists) with seven. 
Although Heitz was Sporting Director when the 2020 Homegrowns were signed, they had all been developed in the Fire Academy for years prior to that (Mauricio Pineda was in the Fire Academy system prior to leaving for college), and so were not really players that were selected by Heitz, nor were they developed during his tenure. Combined with Herbers, that means that over a quarter (25.8%) of the team's total minutes in 2023 were filled by players that predate Heitz.
He has, however, had ample time to move from those players if he wanted to: Herbers was signed to a new contract in the middle of 2020 (with a club option for 2024). 
Heitz gave new deals to most 2020 signings: Miguel Ángel Navarro and Wyatt Omsberg (December 2021), Chris Brady (May 2022), Brian Gutiérrez (September 2022), Carlos Terán (April 2023), and Mauricio Pineda (May 2023) all have new deals; only Javi Casas and Alex Monis remain on the deals they signed in 2020 (and together they accounted for 61 minutes on the pitch in 2023). 
Despite the great value to the roster that Herbers and the homegrown players contribute to the roster, the team has still not been able to make the postseason once under Heitz's tenure. 
Standing Pat, Again And Again
After the rapid-fire burst of signings in his first few months on the job, the Fire have overhauled their roster significantly less than other teams that failed to make the playoffs.
The chart below combines transactions for the two windows (that is, the winter window and the following summer), only for teams that failed to make the playoffs in the previous year, using the same source data as shown in Part II. 
Unsurprisingly, most teams sign a significant number of players in the year after they fail to make the playoffs as they work to retool their rosters.
FC Cincinnati and the L.A. Galaxy both responded to their failure to make the postseason in 2020 by bringing in 17 players over the next year. Atlanta brought in 16 players. D.C. United 13, Vancouver signed 12, Real Salt Lake signed 11.
The Fire? A total of five, considerably fewer than any other non-playoff team. 
Although Heitz preached continuity for the 2021 season, the pattern was repeated – though not to the same extreme –  in subsequent years: In 2022, Inter Miami brought in 21 new players in Chief Soccer Officer and Sporting Director Chris Henderson's first full year after failing to make the playoffs in 2021. D.C. United brought in 20 players. 
The Fire brought in 11 players over the next year, the fewest of any team that failed to make the playoffs in 2021 other than the Houston Dynamo, made nine signings in 2022.
On paper, however, the 2022 team was notably different from the one Fire fans had seen in 2020 and 2021.
Wicky was gone, replaced by Ezra Hendrickson. The team brought in Xherdan Shaqiri in a team-record deal that made headlines across the league.
The Fire finally parted ways with defender Francisco Calvo and brought in Rafael Czichos from 1. FC Köln as a replacement (both on the back line and for the captain's armband).
Also departed was Robert Berić, one of Heitz's first DP signings, after the striker's 12 goals in the COVID-shortened 2020 season fell to eight in 2021, despite the Slovenian playing ten more games that year, and brought in Kacper Przybyłko from Philadelphia in one of the team's most significant intra-MLS acquisitions under Heitz. The highly-regarded 18-year-old Jhon Durán also arrived at forward after the team made waves by signing the top prospect.
Ignacio Aliseda, another 2020 DP signing, was also sent to sister club FC Lugano, and Jairo Torres was brought in to fill the DP slot that he vacated, though Torres arrived injured after an agreement with his prior club Atlas allowed the team to keep him until the very end of the 2022 primary window, arriving in May. Chris Mueller was also brought in at the end of the primary window, as the team was severely understaffed on the wing.
Even if the team only made 11 changes that year, it felt like a significantly overhauled team: Most of the new additions were in players projected to be starters, and the team had a new coach and, with him, new tactics.
It didn't work. Although the team finally had a season above 1.0 PPG, improving to 39 points over 34 games, good for 1.15 points, the team once again finished 12th in the East, and once again scored the second-fewest goals in the league with 39, only three ahead of Wooden Spoon-winning D.C. United's 36.
New coach. New players. A lot of new spending. Same results.
2023: Plus ça change
Coming into 2023, the Fire were one of three teams that had failed to make the playoffs since 2017, along with the Houston Dynamo and D.C. United.  
Houston's brought in 17 new signings over the course of the year. D.C. United brought 15 new faces to their locker room. 
Columbus, who had failed to make the playoffs the prior two seasons, brought in 11 players after adding 14 the year prior. The Earthquakes added 12 players after each year they failed to make the postseason. 
Georg Heitz signed eight players in 2023. The only 2022 non-playoff team to sign fewer was the Seattle Sounders, who were second in the Western Conference in 2020 and 2021 before faltering largely due to injuries in 2022. The Sounders again finished second in the Western Conference in 2023.
Between 2021-2023, Houston signed a total of 37 players as they looked to build a roster that could succeed. They made the 2023 playoffs in a comfortable fashion and won the U.S. Open Cup in the process. D.C. United signed 35 players in that span (though their playoff drought, like the Fire's, continued).
Georg Heitz signed 24 players over the same timeframe. That is fewer than Atlanta (31), Columbus (25), Cincinnati (27), and the L.A. Galaxy (28), all of whom only failed to make the playoffs twice from 2020-2023.
Clearly, given the number of repeat entries on that list, signing a large number of players is no guarantee of success; however, with few exceptions (Seattle last season as a notable example), few teams that fail to make the playoffs seem as satisfied with their roster build as the Fire seemingly have under Heitz.
Mastering The Trade
Coming to the Fire from Europe, Georg Heitz was, by his own admission, not aware of the Byzantine (if not Rube Goldberg-esque) roster rules and spending restrictions in MLS, telling Brian Sandalow at the Chicago Sun-Times "I'm studying [the regulations] every day… I would be a liar if I told you that I've got everything now and I understood everything." 
The rules are complex: There is a "salary budget" that ends up being a fraction of even the most miserly team's actual spending. Designated Players hit the cap at one number. The salary of many players can be bought down using Allocation Money, a work of accounting fiction that is created out of thin air. Teams can have a 30-man roster, but only the first 20 slots count towards the salary budget – though there are multiple restrictions on who the players in slots 21-30 are (with three different sets of rules for those ten spots).
MLS also features a number of elements that are common to North American sports but unknown in Europe: MLS features a draft, called the MLS SuperDraft, when NCAA and NAIA athletes can be selected by teams in an ordered fashion, along with Generation Adidas, essentially an early draft for young players that are not yet eligible to be otherwise drafted. MLS also features waivers and the re-entry draft (essentially, when players with contract options that were not exercised by their teams may be selected by another MLS team), both of which are foreign concepts to European football.
Finally, MLS, like leagues in other sports in North America, has trades: Players can be traded to other teams (typically without their consent, though some players have contract clauses restricting movement). Unlike transfers, their existing contract remains in force, including salary level.
In addition to MLS-specific devices, teams around the world can sign free agents – players who have concluded their contracts with prior clubs or those who were released from their contracts for various reasons, such as when Chicago native and former FC Dallas and USMNT defender Reggie Cannon left Portuguese side Boavista due to non-payment of wages. (Free agents should not be confused with free transfers: Free agents are out of contract with their previous club; free transfers are signed from their previous club but do not have a transfer fee attached.)
MLS trades, picking players off of waivers, and signing draft picks are not the primary mechanisms for building the backbone team in MLS, but taken together, they are incredibly useful. Bringing a player to MLS from overseas requires two separate negotiations: One with the player's current team on transfer fees and possible sell-on clauses and one with the player on a new contract. This includes "big-ticket" items like salary and number of years but also minutiae. Negotiations can drag on, particularly because they often include triangulation between a team, a player, an agent, and even intermediaries.
Domestic moves and signings, however, are often simpler to make and can be completed quicker. Many MLS players from American teams are either US citizens or have Green Cards, meaning they do not occupy a valuable international roster slot.
Instead of having a player's first game happen weeks after their signing, a player arriving in an MLS trade might play for their new team the next weekend; furthermore, players from intra-league moves mean that the player is already familiar with the league, how various teams play, and the challenges including long-distance travel across time zones that make MLS unique.
The chart above shows every player that was brought in to an MLS team via trade, signed from MLS SuperDraft or Generation Adidias, brought in waivers or the re-entry draft, or who was signed as a free agent from 2021-2023. (As with previous charts, teams in their expansion year are excluded). A note about this data: It comes from the list of MLS transactions by year, however the descriptions of all transactions may not be 100% accurate; in particular, some free agent signings may be listed as free transfers. The data for the Fire are accurate, however, and if anything the chart undercounts players acquired via free agents for other teams.
Homegrown players are another mechanism for signing players, and one the team has used, however, because homegrowns take years to develop, and there is no guarantee that a player with a needed profile or playing a certain position might be ready to sign at any given point, they are not included here.
No team (collectively) has used these mechanisms less than the Fire over the past three seasons. The Fire have signed no players off of waivers or the re-entry draft. They brought in one player (Spencer Richey) as a free agent, and signed one draft pick (Kendall Burks). Two players were acquired via trade: Kacper Przybyłko and Kei Kamara. 
Philadelphia and Charlotte both signed five players via these mechanisms, but Charlotte's figure is for a single season. Philadelphia have largely been content on their roster: the team has been a perennial contender, including challenging for both the Supporters Shield and MLS Cup last year.
Real Contributors 
FC Cincinnati, meanwhile, have staged one of the most dramatic turnarounds in league history, going from historically bad results (even for a new team) to winning the Supporters Shield this year. Cincinnati dramatically overhauled their roster, using every means at their disposal to accelerate the process.  
Some of these signings were depth, but Roman Celentano, their starting goaltender this season was a Generation Adidas signing. Defender Ian Murphy was a 2021 draft pick and played over 1500 minutes (17 starts) last season. Free agent signings played over 5,200 minutes for Cincinnati, just shy of one-sixth of their total minutes. And all of this is on a team that had the best record in the league. These players were contributors, not simply warm bodies to round out a roster.
The draft is not nearly as important as it was in the league's early days when most domestic players came through the college system, but it also is not vestigial: Orlando City selected Duncan McGuire from Creighton University in last year's SuperDraft with the sixth overall pick.
McGuire scored 13 goals in just 1,395 minutes this year. For comparison, the Fire's three strikers (Kamara, Koutsias, and Przybyłko) scored a combined 12 goals in 3,501 minutes in 2023.
The pick used to select McGuire initially belonged to the Chicago Fire before Heitz traded the pick along with $500,000 in guaranteed GAM to Orlando for Chris Mueller's MLS rights in 2022. Because Mueller was signed at the tail end of the window and addressed an obvious position of need for the team, Luiz Muzzi, Orlando's EVP of Soccer Operations, had all the leverage in negotiations and was able to get a significant GAM outlay (with performance-based incentives possibly bringing the total to $650,000) on top of the draft pick that ultimately gave his team a successful striker – also a position of need for the Fire – whose salary is just $77,360 in 2023.
You Miss 100% Of The Players You Don't Replace
Speaking of Chris Mueller, His unfortunate injury this past year saw the team place him on the Season-Ending Injury List. When a player is placed on that list, they are prevented from playing in competition for the rest of the season, but in exchange, the roster slot that player occupied opens up, and the team may replace him with any player that earns as much or less than he does without affecting the salary cap (the player need not be listed in the same position). 
By the time of his injury, the team had already fired Ezra Hendrickson because of poor results. They had won just three of their matches. Clearly, losing Mueller, whose nine-goal contributions (four goals, five assists) in 2022 were third on the team, was a blow.
And yet, despite placing Mueller on the list in May, the team did not replace him with a free agent, loanee, or other player, despite having the entire Summer Transfer Window in which to do so and six weeks prior to the window opening in which to negotiate with clubs or free agents.
After Mueller's injury, the team would fail to score in 10 of the 20 games left in the league season after having been shut out just three times in the 13 games before his injury. 
Are those shutouts entirely due to Mueller's absence? Of course not, those games were against different opponents in a different time of year and most under a different head coach.
It is hard to believe there was no player in the world available for $662,320 or less that would have had an impact: Over the summer window, the L.A. Galaxy added Billy Sharp on a free with a contract that expires at the end of the year, agreeing to pay him $240,000. 
Sharp went on to add six goals and two assists in 12 appearances, and the team has no commitment to the player after this season.
Part of the Sporting Director's job is to use every tool at their disposal to produce the best roster possible. The team was not where they had hoped in May 2023, as Heitz clearly said after firing Ezra Hendrickson and instilling Frank Klopas as Interim Head Coach, and yet, given motive, means, and opportunity, Heitz did not fill a roster spot that he had cleared, instead, relying on the Fire to essentially play with a shorter bench for the rest of the season.
The failure to bring in a player despite opening a spot to do so is part of a pattern of failures to use the available tools that other front offices around the league use to build successful rosters.
This concludes Part III of the series. If you haven't already, check out Part I, which looks at macro-level results, and Part II, which details roster construction issues. and check back tomorrow for Part IV, which concludes our series and offers a path forward.